Civil rights activist dedicates his life to community service
2/13/2019, noon | Updated on 2/13/2019, noon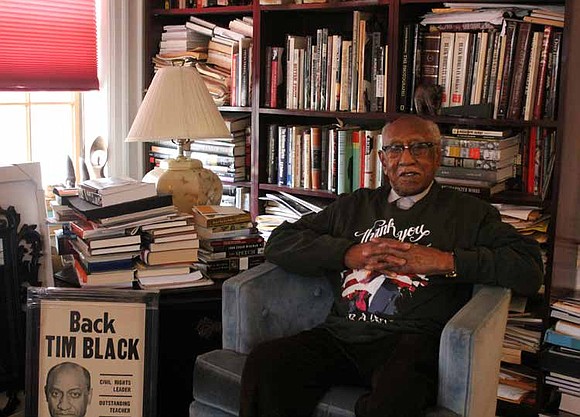 However, as much as Black admires Obama, he said he is not fond of President Donald Trump.
"He is dangerous. Trump has threatened our allies and non-allies like North Korea and that makes it dangerous for everyone in America," said Black. "His behavior reminds me of Hitler, a man who separated people based on class and race."
The former social worker and teacher for Chicago Public Schools graduated from DuSable High School in Bronzeville. Among
his classmates were singer Nat King Cole and John H. Johnson, founder of Ebony and Jet magazines. But prior to attending DuSable he attended Wendell Phillips High School, also in Bronzeville.
"A lot of people may not know that DuSable High School was originally built as an extension to Wendell Phillips due to overcrowding," explained Black. "They [whites] decided that rather than have these Negroes move into the 'white schools' they would instead build another building."
CPS officials could not confirm if DuSable was originally built as an extension to Wendell Phillips or as a new school entirely. Phillips was built in 1904 and was the first public high school in Chicago whose students were predominately black even though Phillips himself was a white abolitionist and attorney.
The War World II Army veteran attended Roosevelt University in 1949, and after graduating in 1952, Black attended the University of Chicago and earned a master's degree in social science. By 1954, he was student teaching at DuSable High School, but officially began his teaching career at Roosevelt High School in Gary, Indiana. He also taught history and anthropology at Olive-Harvey College.
Prior to marrying his wife Zenobia 37 years ago, Black was married twice before and had two children by his first wife, a daughter and a son. Black said while his 70-year-old daughter is still alive, his son passed away years ago. Zenobia said the one thing people might not know about her husband is that he loves to eat Chitlins (also known as chitterlings.)
"The first meal he ever cooked for me when we dated was chitlins. I came over to his place and he asked me what would I like to eat and I said chitlins," recalled Zenobia, 69. "Without missing a beat he goes to the freezer and pulls out a container of chitlins. Then he went into the refrigerator and got spaghetti, coleslaw and corn muffins. That was our first dinner together and the rest is history."
Everyday Black said he looks forward to waking up.
"I like the sunrise because it brings a new day."