3rd Annual Gala Highlights the Impact of Black Entrepreneurs in Chicago
2/13/2019, noon | Updated on 2/13/2019, noon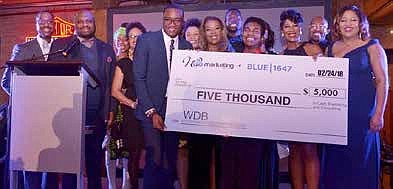 3rd Annual Gala Highlights the Impact of Black Entrepreneurs in Chicago
Three years ago, the WDB LEGACY Awards was created to celebrate Black entrepreneurship, which is often unrecognized and overlooked. After two successful events, where 500-600 businesses were engaged each year, the 3rd Annual WDB L.E.G.A.C.Y Awards is well positioned to reach a larger audience and amplify the message that black business matters and the communities they serve are committed to supporting them.
The event takes place on Saturday, February 23, 2019, from 6pm-10pm at Malcolm X College located at 1900 W. Jackson, Chicago, Illinois.
The overall mission of the gala is to bring 600 start-up and seasoned business owners together for the exchange of new ideas and strategic networking. Statistics show that the average dollar stays in the White community for 17 days, 20 days in the Jewish community but only 6 hours in the Black community. These staggering rates show the importance of having more Black businesses represented in the community, as their existence is crucial to building the American ecosystem.
Seven business owners and community leaders will be honored for building L.E.G.A.C.Y which represents Leadership, Education, Growth, Advocacy, Community and Youth. Awardees were announced on February 6th.
Remy Martin returns, this year as a Major Sponsor, making the gala their official Black History Month celebration. Supporting sponsors include Insurance Exchange and White, Wilson and Associates. Production partners include HSMPR, MCO Designs, and NCAW – National Council of African Women.
"Small businesses are the #1 job creators in the country, so as Black entrepreneurship grows, so does our impact," says Keeana Barber, founder and chief executive officer of WDB Marketing. "Our mission with the L.E.G.A.C.Y Awards is to create a platform where our network of 3,000 business owners can be exposed to one another and connect for new opportunities. I see the growth in Black entrepreneurs within our community. Our goal is to shine a light on all that is hopeful about Chicago."
In addition to the awards, emerging youth entrepreneurs, age 25 and younger, have the opportunity to win a prize valued at $5,000 – including a cash prize coupled with professional consulting and marketing services – to support their business dreams and sustained success. The top 3 finalist will pitch live during the ceremony and be chosen by the audience, "Shark Tank" style.
Over the past 12 years, WDB Marketing has worked with over 3,000 Black owned businesses throughout the nation, witnessing firsthand the enormous impact Black businesses are having in their communities. From job creation, to leadership, to generating hope - small businesses are integral to the growth of the community.
The L.E.G.A.C.Y Awards brings together every important aspect of businesses, the small mom and pops, the local non-for-profits and the larger emerging enterprises for a night of celebration, networking and advancement. Early Bird Tickets are available now at www.LegacyAwardsGala.com. Early Bird General Admission Tickets are $40 and Early Bird VIP Tickets are $50. Members and supporters of the entrepreneurship movement are encouraged to join the conversation by using hashtags #BuildALegacy #LegacyAwards2019.