SOUTH SUBURBAN MAYOR FACES QUESTIONS REGARDING VEHICLE PURCHASES
2/6/2019, noon | Updated on 2/6/2019, noon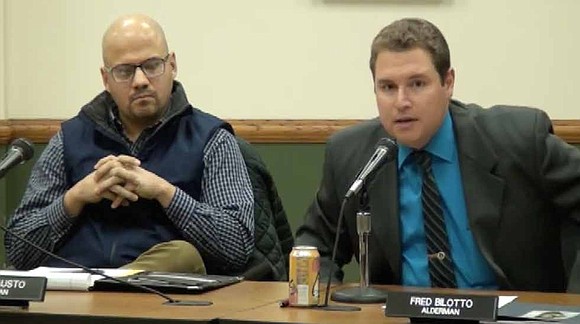 SOUTH SUBURBAN MAYOR FACES QUESTIONS REGARDING VEHICLE PURCHASES
BY KATHERINE NEWMAN
A recent special meeting of the Blue Island City Council was called by Alderman Fred Bilotto, Alderman Candace Carr, and Alderman Nancy Rita to discuss the possibility of hiring a private law firm to investigate allegations that the Mayor of Blue Island, Domingo Vargas, used improper funds to purchase two vehicles for the city.
"I know I have not done anything wrong because I don't think anyone else has done anything wrong in regards to the purchase of these trucks. I want to work closely with all of you as the council in future matters regarding the city. The suggestion of an appointment of a special investigator, I personally believe is unnecessary and from my understanding, it will cost a significant amount of money," Vargas said at the beginning of the open meeting. "If this council chooses, I will cooperate fully with the investigation."
After much debate and several comments from residents advocating for a deeper investigation, The Blue Island City Council voted 8 to 6 in favor of hiring a private law firm to look into the matter.
"I would be more than happy to respond to any questions put in writing and again, given the amount of money that will need to be spent, I will have to say no. Find another law firm and I would be more than happy to do it or put the questions in writing and I'll respond to them," said Vargas who was immediately met with booing from the public audience.
Following the meeting, Alderman Bilotto shared an open letter to the residents of Blue Island that went into detail about the claims that have been made against Mayor Vargas and the happenings of the Blue Island City Council special meeting.
"In October 2018, City officials were notified of a hit and run incident in Niles, IL involving a black Chevy Tahoe registered to Blue Island. The City Clerk had no records of this vehicle being purchased, investigated further and found that two such vehicles were purchased from a dealership and were paid for in an unusual fashion. A cashiers check for over $75,000 in public funds was cut in the City's name and endorsed by Mayor Vargas as a second party check to the dealership," the letter alleged.
The open letter that was shared to Facebook by Alderman Bilotto was signed by not only him but also by Blue Island Aldermen Kevin Donahue, Ken Pitman, Alecia Slattery, Nancy Rita, George Poulos, Candace Carr, and Jairo Frausto.
Ultimately, Mayor Vargas did not approve of the council's recommendation to hire a private law firm to investigate the matter and said that he would be happy to answer questions that are submitted in writing. Some saw this as a back step from his opening statement at the special meeting where he stated that he would "cooperate fully" if the Council recommended an investigation.