ENGLEWOOD STEM HIGH SCHOOL WILL OFFER STUDENTS THE CHANCE TO EARN AN ASSOCIATES DEGREE
2/6/2019, noon | Updated on 2/6/2019, noon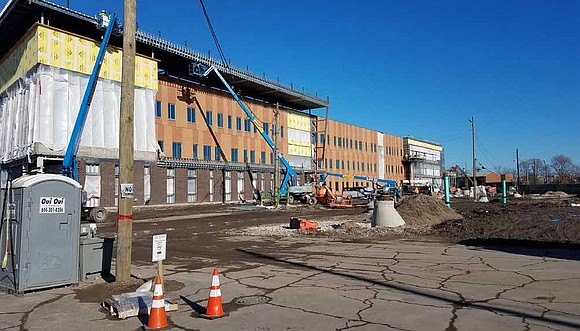 ENGLEWOOD STEM HIGH SCHOOL WILL OFFER STUDENTS
THE CHANCE TO EARN AN ASSOCIATES DEGREE
BY KATHERINE NEWMAN
When completed, Englewood STEM High School will be the first new high school to come to the Englewood community in almost half a century and the
future principal of the new school, Conrad Timbers-Ausar, recently announced that
they received over 1,000 applications from students who are interested in being part of the first freshman class when the school opens this fall.
The new Englewood STEM High School is the result of a multi-million dollar investment by Chicago Public Schools to merge four existing high schools into one brand new building. The four schools that are being merged into the new building are the TEAM Englewood Community Academy High School, Harper High School, John Hope Academy, and Paul Robeson High School.
At a recent Principal's Update meeting held at Earle STEM Elementary School, 2040 W. 62nd St., Timbers-Ausar spoke to attendees about the construction progress on the new Englewood STEM High School and went into detail about some of the new features that the school will boast like a state-of- the-art computer lab, sports programs, and the opportunity for students to graduate in four years with there high school diploma and a college-level associates degree.
"When you talk about the fact that this community hasn't had a new school since the 70's it is very important that students have a viable option for their neighborhood.
On average, students that live in Englewood are traveling approximately 4.8 miles to get to high school," said Timbers- Ausar. "That's really tough for them to have to travel that far to get to school just because they don't have a viable option in their neighborhood."
He went on to say that the new high school in Englewood is an example of creating equity and access in Englewood which he defined as bringing resources to people rather than making the people go to the resources.
During the meeting, Timbers-Ausar shared information about the early college credit program that will be available at Englewood STEM High School. The program will connect the high school with Kennedy King College, a school in the City Colleges of Chicago network, and provide students with the option to earn college credit and potentially leave high school with an associates degree.
"Chicago Public Schools said 'hey, we are going to invest in the [students] in that community and make it where they can get an associates degree' and all you have to do is go to school, get your education, and say that you want to get an associates degree," said Timbers-Ausar.
Because of this, "students will be able to save anywhere between $44,000 and $100,000 on their college education and that's CPS's commitment to the community of Greater Englewood, that's major," said Timbers-Ausar.
Construction of the school is on schedule to be completed on time for the 2019-2020 school year.
To learn more about Englewood STEM High School visit www.cpd.edu.