Personalized Learning Room Unveiled At South Side Charter School
8/21/2019, noon | Updated on 8/21/2019, noon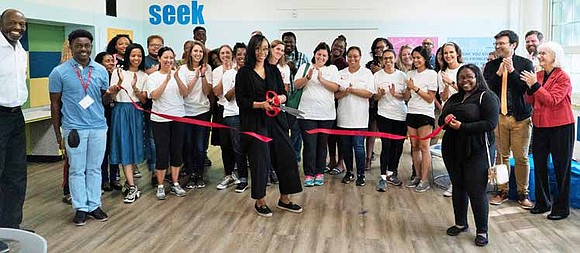 Personalized Learning Room Unveiled At South Side Charter School
BY KATHERINE NEWMAN
Perspectives/IIT Math and Science Academy (MSA) in Bronzeville recently celebrated the unveiling of its new Personalized Learning Room which is a new place inside the school for students, teachers, administrators, and mentors to engage with each other and build relationships.
The Personalized Learning Room, made possible by Horizon Therapeutics and the Heart of America Foundation, includes new tables and chairs, inspiring words and phrases on the walls, murals, and all of the work was completed by volunteers in just one day.
In addition to executing the design for the Personalized Learning Room, volunteers worked on outdoor gardens around the school and helped teachers get their classrooms ready for the new school year.
"Sixty volunteers came into the school, some of which were in the Personalized Learning Room and some of which were outside beautifying the front of the campus to welcome back the students as they return, and of course the community as well. Some of the volunteers were upstairs on the two levels above working in classrooms and helping to create beautiful bulletin boards and prepare classrooms for teachers," said Christine Lucas, senior regional director, Midwest, for The Heart of America Foundation.
The Heart of America Foundation recently celebrated its 20th anniversary and for the last 10 years, the organization has been focused on transforming educational spaces and community centers across the country to create nurturing environments for students and communities to grow, according to Lucas.
"We go into dilapidated or uninspiring learning spaces, usually in schools or community centers that serve a great student population, and we make the space engaging, inspiring, and bring a motivating design to the space so that students have a place that they want to learn and they want to be," said Lucas.
The students at MSA were involved in planning the design of their new Personalized Learning Room but weren't invited to help with the execution so that the finished product will be a surprise to them when they return to school this year.
"Students helped prepare the design but really, for this year, students weren't present on our event day because this is going to be a great big surprise to them as they return to school. What the Personalized Learning Room serves to do is motivate the students with something fresh and new and exciting and it is also inspirational for the teachers who now have a new hub and center to work in," said Lucas.
This is the second project the Horizon Therapeutics and the Heart of America Foundation have collaborated on at MSA. Last year the team came together to create a Peace and Meditation Room inside the school. The peace and Meditation Room is a place where students and faculty can safely rest and recharge, according to Lucas.