Fathers back on the road thanks to new state law
8/21/2019, noon | Updated on 8/21/2019, noon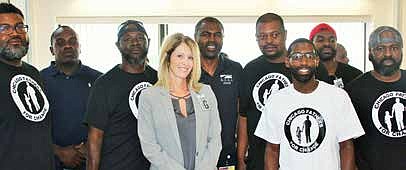 Fathers back on the road thanks to new state law
BY WENDELL HUTSON
Contributing Writer
For six years, Carlos Spencer said he went without a driver's license because he fell behind on his child support payments, and that limited his ability to work.
Spencer has four children ages 26, 23, 18 and 14 and owes $20,000 in back support, which he said is owed to the state for public assistance, such as healthcare taxpayers provided for his children. Most of the money owed is for interest accumulated over the years, according to Spencer, a Burbank resident.
"I lost my job and was unable to make my child support payments and when that happened, the state suspended my driver's license," recalled Spencer, 44. "Once you fall behind on child support, it's hard to catch up especially when the state is charging you interest on any back payments."
But a new state law signed by Gov. J.B. Pritzker this month will allow fathers like Spencer to have their driver's licenses reinstated without having to pay their balance in full but rather to make "satisfactory" payment arrangements with the courts.
State Rep. La Shawn Ford (D-8th) was a chief sponsor of Senate Bill 1473, which now allows the Secretary of State's Office to remove the suspension of an individual's driver's license made pursuant to the nonpayment of child support.
Ford hosted an Aug. 17 community meeting at Loretto Hospital in Austin to inform parents about the new law and to assist them with getting their driver's licenses reinstated.
"Driving is a privilege and many jobs nowadays are on the road whether it's being a truck driver or a rider share driver. But without a license, you cannot work as a driver, which for a lot of parents today has become a second job," explained Ford. "This new law helps parents get back on the road and continue providing for their children."
And Ford said those that are most affected by having their license suspended are blacks.
"Every year thousands of people in Illinois lose their driver's licenses - and in many cases, their ability to work - for reasons that have nothing to do with unsafe driving," said Ford. "Increasingly, driver's license suspensions are imposed not as a punishment for moving violations, but as a tool for the government to try to collect revenue from people who have fallen behind on their payment of child support, parking tickets, other fines, and fees. The impact of these heavy-handed collection tactics falls most heavily upon low-income communities and people of color."
About 100 mostly men attended the meeting where they had an opportunity to receive free legal advice from men's rights advocate and attorney Jeffery Leving.
"The system has been bias against fathers for years. And taking away their ability to work by suspending their driver's license or putting them in jail for nonpayment isn't going to get them to pay child support any faster," Leving told the crowd.
"Helping fathers to keep their job is a better way to ensure they will pay child support and giving them their license back is a big help."