KUFI CLUB OF CHICAGO OFFERS AFRICAN-CENTERED EDUCATION FOR SOUTH SIDE YOUTH
8/14/2019, noon | Updated on 8/14/2019, noon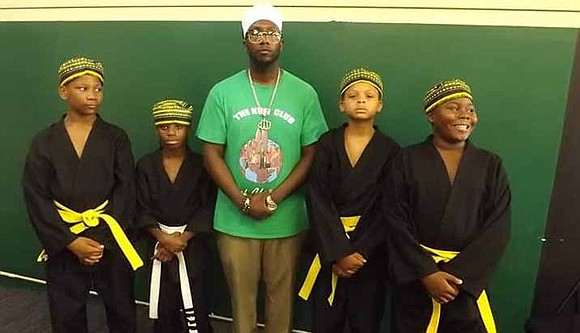 Kufi Club of Chicago Offers African-Centered Education For South Side Youth
BY KATHERINE NEWMAN
The Kufi Club of Chicago is a non-profit organization that addresses the cultural, career, academic, and social needs of at-risk African American youth who live in Chicago's Roseland neighborhood. Throughout the summer, the organization has been providing a safe space for young people to learn about their African heritage while also empowering them to become change-makers in their community.
"When I started the Kufi Club, I was looking for a way to engage young people in
community development and to engage black youth in their cultural heritage and learning about themselves," said David Muhammad, founder of the Kufi Club of Chicago.
The flagship program of the Kufi Club is the African-centered Rites of Passage program where young people look at the teachings and traditions of African societies and learn about various principals, expectations, and what it means to be a man or woman in a traditional African society.
"We've taken that traditional African model of the rites of passage and implemented it in a modern-day setting," said Muhammad.
As the student progress through the Rites of Passage program, they are given the privilege of wearing a Kufi hat.
"When you wear the Kufi, which is an African word that means crown, you have
to carry yourself with pride, dignity, and self-respect. Within the Kufi Club, the kids
earn their right and privilege to wear the Kufi Crown and as they move up in the
ranks of the club, they get different colored Kufi hats and badges," said Muhammad.
The Kufi Club is a recipient of the Safe and Peaceful Communities Fund grant which provides funding for community organizations across the City of Chicago to support their anti-violence summer programming.
"Thanks to the Safe and Peaceful Communities grant we were able to continue
our programming throughout the summer and with that, we were able to provide a free breakfast and lunch program for children in the community that needed it. Our upcoming Community Peace Forum is the highlight of what we are using the grant money for and that will take place in October," said Muhammad.
The Community Peace Forum will take place on October 26 at 2 p.m. at the Kufi
Club in Roseland and is being organized by the youth who are participating the Kufi Club's summer program. The event will bring together community stakeholders and residents to discuss the issues they see in the Roseland community and allow them to brainstorm potential solutions.
"There has recently been an increase in shootings and there is just a lot going
on in the community," said Muhammad. "Rather than take the approach of kids
being problems that need to be fixed in the community, we are taking the approach that they could actually be agents of change in the community."
To learn more about the Kufi Club visit www.kuficlub.org.