DOZENS OF CHICAGO TEENS ATTEND STEM ACADEMY AT ILLINOIS INSTITUTE OF TECHNOLOGY
8/14/2019, noon | Updated on 8/14/2019, noon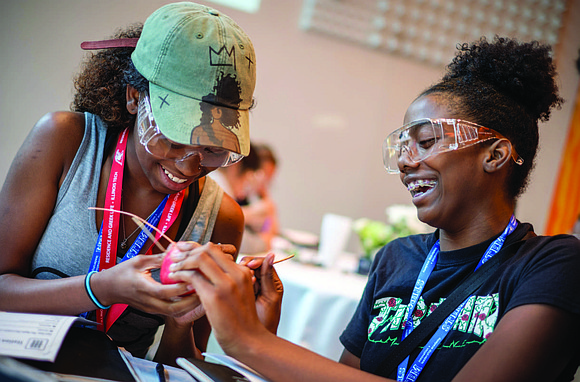 Dozens of Chicago Teens Attend STEM Academy At Illinois Institute of Technology
BY KATHERINE NEWMAN
During one of their final weeks of summer vacation, about 60 young girls from across the Greater Chicagoland Area stayed on campus at the Illinois Institute of Technology in Bronzeville for the Exelon Foundation's second annual STEM (Science, Technology, Engineering, and Math) Innovation Leadership Academy. Throughout the week, the girls were exposed to STEM careers and concepts through field trips, panel discussions, mentorship, and hands-on activities.
"The STEM Academy has been a great way for us to introduce young women to STEM careers and a great way to introduce them to Exelon and our subsidiary ComEd," said Steve Solomon, president of the Exelon Foundation. "Part of our commitment is to make sure we are having equity in our retention of women at the company. We want to make sure that we are doing everything we can to keep women who come to work for us at the corporation."
During this year's STEM Innovation Leadership Academy, there was a major focus on climate change. The girls learned about alternative energy sources, carbon footprints, and energy efficiency while working in groups to create an energy sustainability plan for the Illinois Institute of Technology.
A recent survey of high school females, conducted by Motion Research and funded by the Exelon Foundation, found that nearly four out of five high school girls believe action needs to be taken to address climate change and most girls felt their actions could impact climate change but less than half of the young women felt that they were prepared to deal with the issue.
"Climate change is something I would like to focus on in the future because it's increasingly becoming a more apparent problem that we need to solve now," said Anisah Adeagbo, senior at Jones College Prep. "I feel like if I can go into this career path, I'll be able to help people see how much of an issue this is. We are talking like 50 years from now and the entire world is going to be different than what it is now and some people can't even fathom that and it's blinding them from wanting to make a change."
Another exciting part of the week for the girls was the Executive Dinner where they were able to network with a variety of professional women including Cook County Board President Toni Preckwinkle and Shedd Aquarium President and CEO Bridget C. Coughlin.
"We had dinner with the executives and they were all women. During the panel discussion, three of the four women were women of color and it was really interesting to hear their career paths and how they went into STEM and then it grew into something bigger. It was really great to hear from them because I don't see that many women out there in STEM or women that are of color like me so it was good motivation for me to continue to do what I do," said Esme Ovalle, senior at Muchin College Prep.