BLACKS ARE AMONG HARDEST GROUP TO CONTACT FOR U.S. CENSUS
8/14/2019, noon | Updated on 8/14/2019, noon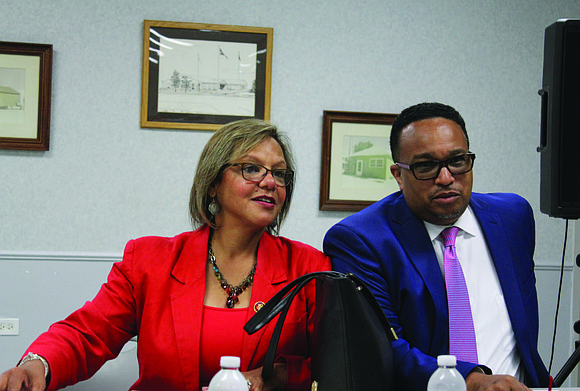 Blacks are among hardest group to contact for U.S. Census
BY WENDELL HUTSON
Contributing Writer
The upcoming census in 2020 could result in Illinois losing one congressional seat due to all residents, such as blacks, not being counted.
That is what U.S. Census Bureau officials said at an August 5 community meeting in Country Club Hills, which was hosted by U.S. Rep. Robin Kelly, D-2nd, whose district includes many south suburbs. A census office for the south suburbs will open next year in Matteson, according to Kelly.
One problem with getting people especially blacks and low-income earners to participate is a lack of Internet access, according to Cory Stevenson, a partnership specialist in the Chicago regional office for the U.S. Census Bureau.
"Not everyone, especially in rural areas, have Internet access and sometimes that makes it difficult for those individuals to participate," he said. "Seniors, minorities and low-income individuals are among the core groups the census has identified as hard to reach. We know many seniors do not feel comfortable giving their personal information over the phone, and therefore may choose not to participate at all."
Mostly seniors like Patricia Albright attended the meeting where they asked questions about having their personal information safeguarded.
Albright, a Markham resident, said she does not want to participate in the census.
"I don't trust the government with my personal information. I know it is important that everyone be counted but I'm not sure if I want to put my business out there," she said. "I am a retiree with a side business and I don't need the IRS sniffing around my pockets."
Other groups Stevenson said are hard to contact for the census include veterans, the homeless, children, college students, renters, and Millennials. According to census data, Illinois has a population of 12.5 million, Chicago 2.7 million and Cook County 5.2 million.
Jeanine Beasley, also a partnership specialist for the U.S. Census Bureau, added that the census is partnering with local organizations to help with outreach efforts to contact those groups hard to reach.
"On March 27, 30 and 31, we will hit the streets with our community partners to reach those core groups like the homeless," said Beasley. "We will go to homeless shelters, prisons, colleges, senior homes, and any place where there's a large group of people sharing the same address to make sure they are counted."
She added residents could go online to census.gov for more information about the census or to receive help filling out a census form.
As of now though the census does not have a plan in place on how it plans to reach other core groups like blacks, low-income earners, renters, and Millennials.
"We are still working on ways to reach those groups but every effort will be made to contact everyone," added Beasley.
The consequences if everyone is not counted could be devastating for Illinois, contends Kelly. "It is important that everyone is counted in the census. If not, Illinois stands to lose as much as $1 billion a year for the next 10 years in federal funding," said Kelly. "And if we lose this funding, Illinois residents would see drastic cuts to Medicaid, federal student loans, food stamps, and highway funding."