SEVERAL SOUTH SUBURBAN GIRLS PARTICIPATE IN SIXTH ANNUAL ICE BOX DERBY
8/7/2019, noon | Updated on 8/7/2019, noon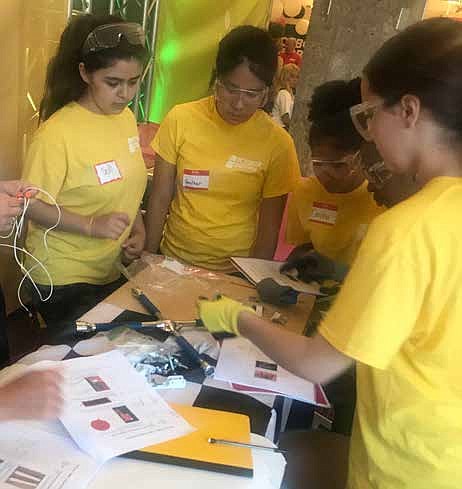 Several South Suburban Girls Participate In Sixth Annual Ice Box Derby
BY KATHERINE NEWMAN
For the sixth year in a row, ComEd hosted its Icebox Derby which allows
30 young women, ages 13 to 18, to learn science, technology, engineering, and math (STEM) skills by working collaboratively to transform recycled refrigerators into electric and solar-powered derby cars.
The purpose of this event is to provide experiential STEM learning opportunities for high school-aged girls and open their minds to the potential STEM careers thatare available to them.
"The lack of women in STEM careers continues to be a problem, and we need to do more than talk about it," said Joe Dominguez, CEO of ComEd. "That's why we created this program to encourage young women to step into their power and take ownership of the opportunities that exist in the STEM field. The world's biggest challenges involve science, technology, engineering, and math and we will need women scientists and innovators to help solve them. The Icebox Derby is just one way we are creating positive change and exposing youth from our communities to STEM career possibilities."
The 30 participants who were selected for the Icebox Derby summer program represent the diversity of Chicago and come from communities across the region, including several from Chicago's South Suburbs.
The girls participated in four Build Days leading up to the Icebox Derby race in Daley Plaza. The students were broken up into six teams and each team was assigned female mentors from ComEd who led them through the concepts they needed to learn to be able to turn an old refrigerator into a derby car.
"I thought it was pretty cool to be able to work with solar panels and build a race car with a team. Just learning to build things and being able to connect with people is what I really wanted to get out of the experience," said A'Mari Laktzian, Icebox Derby participant and recent graduate of Thornton Fractional North High School in Calumet City.
During her time in high school, Laktzian said that she did have STEM exposures and remembers making constellations with circuits in a physics class she took. She plans to go on to study biology in the fall at Texas Southern University and will use the concepts she learned at Icebox Derby to help her succeed in STEM.
Many of the girls who participated in the Icebox Derby indicated that their favorite part of the program was the teamwork, both with their mentors and their peers.
"My biggest take away is mostly the teamwork and the fact that we are all working together on the wires and building and constructing the car," Denise Galan, junior at Mother McAuley Liberal Arts High School.
"Doing this made me more interested in STEM so I plan to keep the lessons they have taught me here in my mind."