LUV Fest Brings Together South Side Neighbors In Mandrake Park
8/7/2019, noon | Updated on 8/7/2019, noon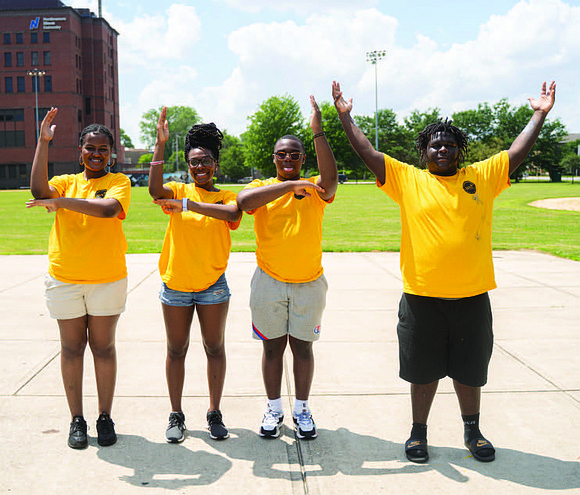 LUV Fest Brings Together South Side Neighbors In Mandrake Park
BY KATHERINE NEWMAN
The Love, Unity, and Value Institute (LUV Institute) recently hosted LUV Fest in Mandrake Park, 3858 S. Cottage Grove Ave., to allow community residents to get to know their neighbors. The afternoon event was free and offered food, entertainment, live art-making, and activities for kids.
The LUV Institute is a nonprofit organization that focuses on college and career readiness for young people from ages 11 to 24 and provides them with skills for success in the workforce. The mission of the organization is to inspire and empower at-risk youth with the skills, competencies, and opportunities they need to build resiliency while reducing the impact of trauma, according to information provided by the LUV Institute.
"We really focus on college and career readiness and social and emotional learning tools for young men and women of color who have experienced trauma. We have learned that 70 percent of the young people we serve have actually experienced some level of trauma by the age of 16," said Cosette Nazon-Wilburn, executive director of the LUV Institute.
Trauma is an emotional response to a terrible event, according to the American Psychological Association. Often, youth trauma in Chicago is thought to be directly connected to violence and specifically gun violence, but what the LUV institute has found is that there are a number of reasons why young people experience trauma, like their parents getting divorced, losing a family member, or having a parent lose their job and having to move, according to Nazon-Wilburn.
"We underestimate what kids are going through and while schools often label things like low school performance, social awkwardness, anxiety, and anger as issues, it all can be rerouted back to trauma," said Nazon-Wilburn. "Our work really is about unpacking and providing the kinds of buffers that young people need around to survive trauma."
While the LUV Institute heavily focuses on young people in Chicago, LUV Fest was an event for the entire family and community. LUV Fest was made possible by a $10,000 grant from the Safe and Peaceful Communities Fund, a fund that was created to provide grants for community-based organizations to create anti-violence programming during the summer.
"We created a community event where you could get to know your neighbor because we know that when you know your neighbors you are less likely to engage in violence and you make neighborhoods safer," said Nazon-Wilburn.
"The centerpiece of it was that everyone worked on a community art project where they put together tile and eventually we will do an unveiling around that."
The event was organized and led by students at the LUV Institutes who were responsible for coming up with the idea and plan for LUV Fest.
To learn more about the LUV Institute visit www.luvinstitute.org.