McDonald's gospel tour includes Chicago singer
4/24/2019, noon | Updated on 4/24/2019, noon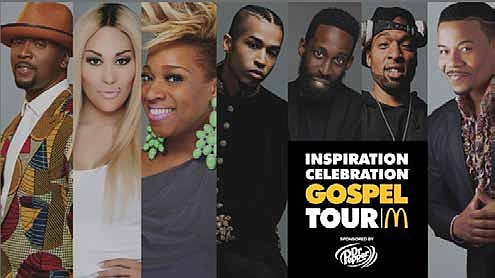 McDonald's gospel tour includes Chicago singer
BY WENDELL HUTSON, Contributing Writer
This week, the 13th Annual Inspiration Celebration Gospel Tour by McDonald's kicks off its national tour in Chicago and includes South Side native Sir the Baptist.
The free concert starts at 7 p.m. on Saturday at the House of Hope, 752 E. 114th St. Admission is free but tickets must be obtained online at eventbrite.com/e/2019-mcdonalds-gospel- tour-chicago-tickets 58726697132.
This year, William Stokes, 31, whose stage name is Sir the Baptist, is among the performers, who include Kierra Sheard, Tye Tribbett, Keke Wyatt, DJ Standout, and Chicago native Donald Lawrence. Stokes, who was born and raised in Bronzeville and currently lives there with his wife and two children, said he is excited about the tour and performing before a hometown crowd.
"Anytime I can perform in Chicago it is a real treat for me. It's always good to be home with family and friends," said Sir the Baptist, who is one of 22 children.
He previously performed at the 2016 Lollapalooza music festival and later that year opened up for Grammy-award singer Beyonce in New York.
Not bad for a guy who once slept in his car and was a driver for Lyft. "I still have my Lyft account active. I enjoyed driving for them because it allowed me to meet so many interesting people. I'm now friends with the CEO of Lyft," added Sir the Baptist. "At some point, I would like to drive Lyft again. And yes, I
once went through hard times and had to sleep in my car to make ends meet."
But prior to driving for Lyft and withdrawing from Columbia College Chicago after attending for one day, the Leo Catholic High School alumnus worked at Chicago-based advertising giant Leo Burnett as a digital marketing director.
"I learned a lot while working there and experience there helped me organize my career early on," he said.
Fellow singer Sheard added that the tour, which ends Dec. 13 in Houston, is a first for her and she has been looking forward to it all year.
"It's a privilege to be a part of a tour that I and so many people I know have admired over the years," she said. "McDonald's is doing something amazing through this community-based gospel tour. I'm so excited to be involved."
Besides Chicago and Texas, tour stops include Atlanta; Washington, D.C.; Florida; and Michigan.
The event is an extension of the brand's Black & Positively Golden campaign, an initiative designed to uplift communities and inspire excellence.
McDonald's officials said it highlights all things positive and focuses on stories of truth, power and pride, while celebrating black excellence through education, empowerment and entrepreneurship.
The Black McDonald's Operators Association of Chicagoland and Northwest Indiana are hosting the April 27 concert.
"The BMOA is so excited to welcome back the McDonald's Inspiration Celebration to Chicago.
Inspiration Celebration is one of our favorite events to host because not only does it feature some incredible gospel artists, it's also free for the entire community to come and enjoy," said Derrick Taylor, president of the Black McDonald's Operators Association of Chicagoland and Northwest Indiana. "We as McDonald's owners are so blessed by the communities we serve, so we love any opportunity that we can give back and bring some joy to our customers. We're also proud to support an event that benefits our local Ronald McDonald House Charity that helps hundreds of local families manage tough times."