COMMUNITY DEVELOPERS AND RESIDENTS COME TOGETHER TO DEDICATE A NEW PUBLIC SCULPTURE
4/17/2019, noon | Updated on 4/17/2019, noon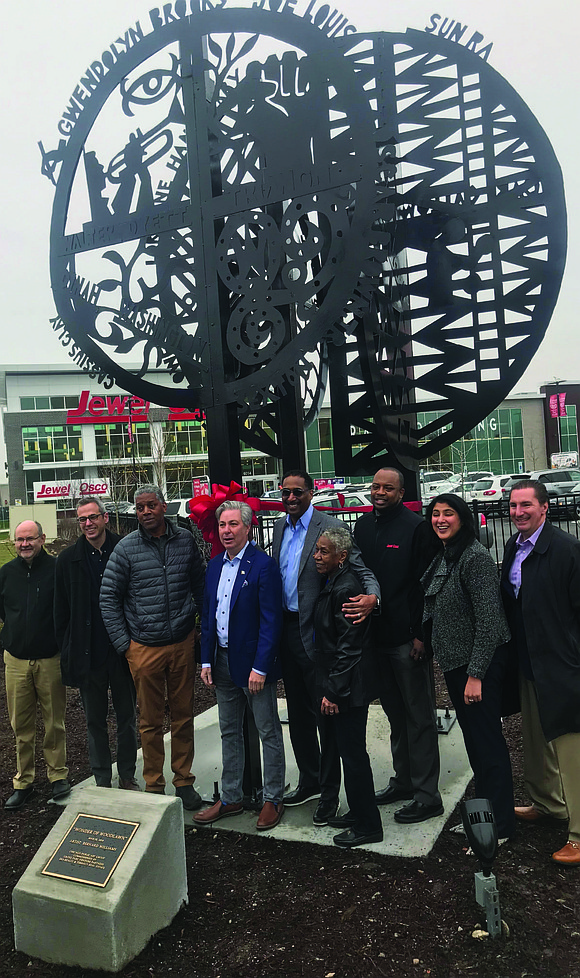 Community Developers And Residents Come Together To Dedicate A New Public Sculpture
BY KATHERINE NEWMAN
Woodlawn residents recently gathered at the corner of E. 61st Street and S. Cottage Grove Avenue, right in front of the new Jewel-Osco store, to participate in a dedication ceremony for the new 17-foot sculpture known as the Wonder of Woodlawn.
The Wonder of Woodlawn was designed with significant input from residents about what they would be proud to see in their community and features names and symbols that represent the neighborhood's history and African American history.
During the dedication ceremony, the artist, Bernard Williams, described the sculpture as being inspired by the ferris wheel of the World's Columbian Exposition, also known as the Chicago World's Fair, which took place in 1893 and is seen as being a defining moment in the city's history.
"This resulted from a community process where residents came and shared so much about the history of Woodlawn and things that I didn't know about, the great leaders, people, and artists who come from this community.
This is why Woodlawn has a chance to have a different fabric, a different culture, and a different streetscape," said Leon Walker, managing partner of DL3 Realty and one of the sponsors of the new sculpture.
This new sculpture is the crowning jewel on a series of developments that have all recently been completed in this area including the new Jewel-Osco, the Trianon Lofts, and the MetroSquash Center that now occupy three of the four corners at 61st Street and Cottage Grove.
The redevelopment effort in Woodlawn has been largely led by the Preservation Of Affordable Housing (POAH) which is a nonprofit developer whose mission is to preserve, create, and sustain affordable housing stock to support economic security, according to the POAH website.
"What we try to do at POAH is work community first and development second and the community really took this and made it happen and the community has the voice that tells us what direction they want their community to go in," said Felicia Dawson, vice president of community partnerships for POAH.
Prior to POAH stepping in and taking a lead in Woodlawn, Dr. Leon Finney, Jr. was known for spearheading community development in the neighborhood.
"I've seen many things happen in this community throughout the years," said Finney.
"My longtime friend Bill Eagar from POAH, a great organization, picked up the medal that we carried for over 50 years and became the driving force for this community."
During the dedication ceremony, several community residents shared their thankfulness for the organizations that are working in the community and their willingness to include residents in the planning process.
"Bernard's sculpture encapsulates that hope and that feeling of pride in the past and that expectancy about our future," said Walker. "This is a proud community and neighborhood and all of us here on the development team, with the city, and our partners at POAH put a lot into this and there is no better moment than this when you can deliver on a promise and deliver hope again for this community."