EARTH DAY CLOTHING DRIVE HELPS CHICAGO YOUTH AND MAKES ENVIRONMENTAL IMPACT
4/10/2019, noon | Updated on 4/10/2019, noon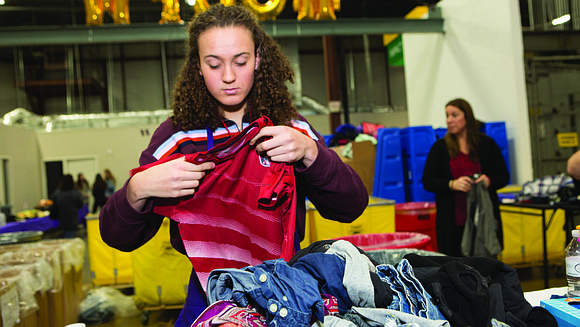 Earth Day Clothing Drive Helps Chicago Youth And Makes Environmental Impact
BY KATHERINE NEWMAN
As of 2015, there was over 137.7 million tons of waste sitting in landfills across the country and 7.6 percent of that was made up of textiles which are mostly discarded clothing items, according to the U.S. Environmental Protection Agency.
With this information in mind, Cradles to Crayons, a national nonprofit organization with an office in Chicago, created their Earth Day Clothing Drive which will take place on April 27. The clothing drive will not only support their own mission, but will also help to keep textiles out of our landfills.
The Earth Day Clothing Drive will take place at nine pop-up donation sites in Chicago and the nearby suburbs. Chicagoans are asked to drop off donations of new and gently used kids clothing that will be distributed to children living in low-income situations across the Chicago area.
"We know that in the springtime people like to spring clean and we also like to talk about how people should be spring greening," said Shoshana Buchholz-Miller, executive director of Cradles to Crayons Chicago. "This is a great opportunity for us because people are cleaning out their closets anyway so we just want to let them know that we are out here and happy to be a recipient."
Donations will be accepted from 10 a.m. to 1 p.m. at the Garfield Park Conservatory, 300 N. Central Park Ave, the Public Works Center in Oak Park, 201 South Blvd, and the South Side YMCA, 6330 S Stony Island Ave.
Requested donations include: clothing, sizes newborn to adult medium; sneakers, sizes newborn to adult size 10; rain jackets and boots, sizes newborn to adult medium and size 10; toys, especially for ages 0-12 months and 10-12 years; and books, especially for ages 0 to 2 years old and 11 to 12 years old.
"Cradles to Crayons provides new and gently used necessities to children in Chicagoland who are newborn to 12 years old and are living in low income or homeless situations. Our goal is to provide these necessities to kids that need them and can't get them," said Buchholz-Miller.
With locations in Boston, Philadelphia, and Chicago, Cradles to Crayons collects new and like-new children's items through grassroots community drives and corporate donations. The donations are processed and packaged by volunteers at the organization's local headquarters.
After being packaged, the items are distributed to children through a network of social service agencies and public school partners, according to information provided by Cradles to Crayons.
"What has been eye-opening for me with Cradles to Crayons is the impact that this concept of clothing insecurity has on people. There are government services for food, health care, and housing but there is nothing for people to have clothing and necessities," said Buchholz-Miller "It falls on other organizations like ours to fill that gap and I think that's something that people don't really think about."
For more information and to learn about volunteer opportunities, visit www.cradlestocrayons.org