SECOND ANNUAL FACE SUMMIT FOSTERS ENGAGEMENT BETWEEN SCHOOLS, FAMILIES, AND COMMUNITY
4/3/2019, noon | Updated on 4/3/2019, noon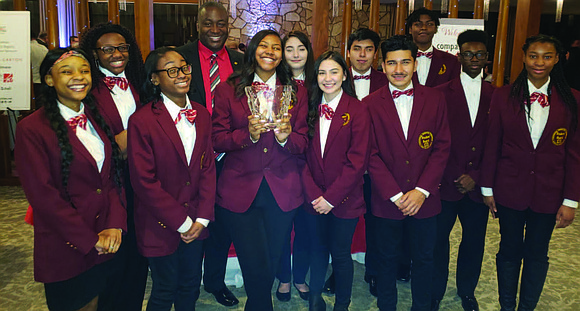 SECOND ANNUAL FACE SUMMIT FOSTERS ENGAGEMENT BETWEEN SCHOOLS, FAMILIES, AND COMMUNITY
BY KATHERINE NEWMAN
Thornton Township High Schools District 205 recently hosted their Second Annual Family and Community Engagement (FACE) Summit at Thornton Township High School in Harvey. The purpose of this event was to recognize students, parents, stakeholders, and township leaders in the school district for their support, and to empower them to stay involved in the school district.
"The purpose of the FACE Summit is to continue to bring positive outcomes and a greater good for the students and we need the parents to help us to do this. This year's Summit was filled with more educational sessions, student entertainment, and vendors," said Nina Graham, president of the Thornton Township High Schools District 205 School Board.
During the event, there were several different workshops that took place, free food, and a talent showcase that featured dance, musical, and spoken word performances from students.
"It is our hope that when the parents and the community leave this event that they will want to come back and continue to help our students," said Graham.
The Superintendent of Thornton Township High Schools District 205, Nathaniel Cunningham Jr., has only been serving as the Superintendent for about 10 months and he said that he is excited to be able to work with the community and this event is just one way of doing that.
"This is an opportunity to get our families out and to engage with our community about the education of our students," said Cunningham. "It's easy for us to send out a note to parents or to do a call out but actually having parents here in small groups talking to us about the challenges that their students face is powerful," said Cunningham.
The leadership staff for Thornton Township High Schools District 205, including the principals, teachers, superintendent, and board members, often say that they are committed to putting students first and this event is an example of that.
"This is probably an old idea but it's still a true idea, great school systems help build great communities. We are reaching out to work on building our community and the only way that we can build and get stronger is to do it together. Our parents have to be educated on the needs of our students and we have to be educated on the needs of our community. Working together is how we can solve the many challenges we have," said Cunningham.
Superintendent Cunningham said that this event is an important opportunity for the school district leaders to meet with the community to talk about how the community can collectively support the success of its students.
"It was wonderful to see the number of family members that were out. There were a number of opportunities for people to engage with the district and talk about the challenges that we have in our community, especially the challenges that our young men face, and let them know we have lots of different things going on here to support our kids," said Cunningham.