AFRICAN AMERICAN ARTIST CREATES EXHIBIT TO PROVIDE A SPACE FOR RELAXATION AND REFLECTION
4/3/2019, noon | Updated on 4/3/2019, noon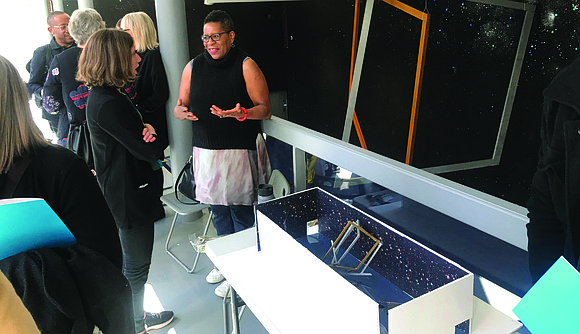 AFRICAN AMERICAN ARTIST CREATES EXHIBIT TO PROVIDE A SPACE FOR RELAXATION AND REFLECTION
BY KATHERINE NEWMAN
The Hyde Park Art Center, 5020 S. Cornell Ave., recently hosted an opening reception for the new Dark Matter: Celestial Objects as Messengers of Love in These Troubled Times exhibit that was created by Folayemi Wilson. The sights and sounds of the exhibit are meant to create a peaceful atmosphere for reflection, meditation, and healing.
As an artist, Wilson has a background in furniture design, art history, and art theory. She is an assistant professor at Columbia College Chicago and gives lectures about art and design to both her students and international audiences. Additionally, writings and reviews created by Wilson have appeared in The NKA Journal of Contemporary African Art and the International Review of African American Art.
The new Dark Matter exhibit showcases a combination of visual art, audio, and video to create a captivating room that has been transformed from floor to ceiling to give the space a truly celestial feel. Wilson said that she hopes to have created an exhibit that will serve as a relaxing space for reflection and healing.
"I think the western view of art is so divorced from the body. We make art that is just on the wall, we view it, and there is this distance," said Wilson. "That's why I wanted to create this more bodily experience."
Wilson said that she wants Dark Matter: Celestial Objects as Messengers of Love in These Troubled Times to be an exhibit that is more than just walking around a room and looking at pieces of art.
Those that visit this new exhibit should be able to feel the art and feel connected to the space and the environment that Wilson has created.
"The African world view very much acknowledges what you don't see and the spirit that is part of all things. That spirit is not necessarily acknowledged in the western world because you can't prove it scientifically but I know it's there," said Wilson.
The exhibit will be open from now through July 14 and during the duration of the exhibit there will be several different experiences held in the gallery to enhance the experience.
"I'm inviting yoga groups to come in and use the space, there is a meditation group that I participate in sometimes and I want to invite them to have a meditation session here, and it's kind of open to other groups that might want to use the space," said Wilson.
Just before the exhibit closes, on July 11 at 6 p.m., Krista Franklin, a poet and visual artist, will present a long-form poem inside of the gallery that she will write in response to the exhibit and accompanying her will be Ben LaMar Gay, a Chicago jazz musician. This event is free and open to the public.