5th ANNUAL (IN)JUSTICE FOR ALL FILM FESTIVAL TO RUN OCT. 4-13
Free Film Screenings Illuminate the Causes and Impact of America's Mass Incarceration Epidemic and Potential Solutions
9/26/2018, noon | Updated on 9/26/2018, noon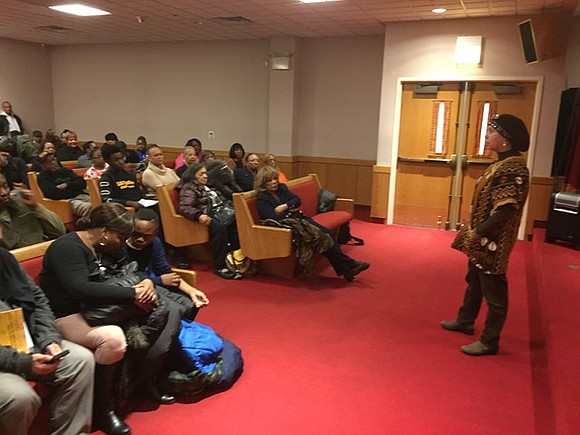 5th ANNUAL (IN)JUSTICE FOR ALL FILM FESTIVAL TO RUN OCT. 4-13
Free Film Screenings Illuminate the Causes and Impact of America's Mass Incarceration Epidemic and Potential Solutions
The (In)Justice for All Film Festival will feature more than 60 films, in 26 locations throughout Chicago within the span of 10 days, designed to educate, encourage and inspire people to take active roles in combating some of the ills that lead to or happen as a result of the mass incarceration epidemic. It runs October 4-13 and is free and open to the public.
The screenings will feature documentaries, feature films, and topical shorts that explore America's criminal justice system – police, courts, and corrections – and the industries that profit from it. Stories spotlight the millions of people that are relegated to second-class citizenship under an unforgiving system and highlight best practices that exist in other countries and even here in America. Some of this year's callout events include:
 Opening Reception and Ceremony featuring Rikers: An American Jail (October 4th)
 SAY THAT! Spoken Word Artist Poetry Jam interspersed with short film documentaries
(October 5th)
 A focus evening highlighting Sexual Exploitation, with a screening of California's Forgotten Children and featuring an intergenerational conversation led by local sexual exploitation activists (October 7th)
 A celebration of First Defense Legal Aid, with films and conversation (October 11th)
 Closing Ceremony/Awards Event (October 13th)
 A wide assortment of Panelist/Panel Discussions and Chicago Spoken Word Artists to provide context to the many films that will be featured over the 10 days (dealing with mental health, race, homelessness, challenges of returning citizens, and more) "Since our founding, we have primarily focused on awareness and education. We believe in the power of film to educate and influence, to inspire and engage, and to grow the numbers of active allies in the fight to end the embarrassing injustice that mass incarceration represents," explains Daryle Brown of The Next Movement Committee of Trinity United Church of Christ's Prison Ministry, the IFAFF festival director.
Many of the film directors will be on hand for panel discussions. Chicago Spoken Word artists, including poets Kwyn Riley, Jalen Kobayashi and singer, songwriter Maggie Brown, will provide context to the many films featured that deal with mental health, race, homelessness, the challenges of returning citizens, and other relevant issues. The IFAFF is also a film competition. Each year, the event closes with the "Justice Awards" ceremony highlighting the best films of the festival. All film screenings are free and open to the general public.

The main venue for the festival is Trinity United Church of Christ, 400 W. 95th Street, for both screenings and ceremonies. But, the magic of the festival derives from the extensive group of partners that contribute their enthusiasm, host sites, relationships, and more, to spread the IFAFF throughout Chicago and its suburbs.

Vocalo 91.1 is the media partner this year. Drug Policy Alliance and Euclid Avenue United Methodist Church are producer sponsors. Festival partners include: Art Works Project, Black and Pink, Black Law Students Association of Northwestern University School of Law, Cabrini Green Legal Aid, Chicago Alliance Against Racist and Political Repression, Chicago Filmmakers, Chicago Metropolitan Association-Justice Witness Ministry, Chicago State University, Columbia Comfort Station, Community Film Workshop, Community Renewal Society, Co-prosperity Sphere, DePaul University, Doc Talk Show, Euclid Avenue United Methodist Church, Facets Cinematheque, Fellowship Christian Church of Oak Park, First Baptist Church of University Park, First Unitarian Church Chicago, Fourth Presbyterian Church/Interfaith Coalition Against Racism, Good News Community Church, Illinois Conference of the UCC, Justice Witness Ministry, Kartemquin Films, Lake Forest College, Reva and David Logan Center for the Arts, McCormick Theological Seminary, Mill Park Tower, Nehemiah Trinity Rising, Northeastern Illinois University-El Centro, Northwestern University Pritzker School of Law, St. James Cathedral, Chicago, St. Paul and the Redeemer, Positive Anti-Crime Thrust, Reel Black Filmmakers, St. Stephens Evangelical Lutheran Church, Sanctuary Café by Stories Connect, Segundo Ruiz Belvis Cultural Center, Service Employees International Union, South Shore Cultural Center, Southside Projections, Trinity UCC Ministries, Uri-Eichen Gallery, University Church of Hyde Park, and Workers Rights Board of Jobs with Justice.
Visit http://www.injusticeforallff.com/ for the full schedule of screenings and locations. The mission of The Next Movement (TNM), organized as a committee of the Trinity United Church of Christ (Trinity UCC) Prison Ministry, is to end the mass incarceration of African Americans, other men, women, and youth of color, the poor and disadvantaged, and to remove the structural injustices inflicted upon the currently and formerly incarcerated, returning their full rights to them. To learn more about The Next Movement, Trinity United Church of Christ and its long-standing history of socially-conscious ministry, visit www.trinitychicago.org, Twitter @TrinityChicago, or like us on Facebook.