PRIDE, ATHLETIC PROWESS AND ACADEMIC EXCELLENCE FUEL THE HBCU CLASSICS HERE AND NATIONWIDE
9/20/2018, 10:56 a.m. | Updated on 9/20/2018, 10:56 a.m.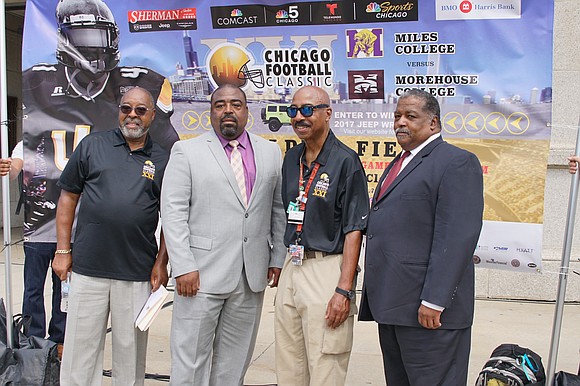 • Friday, Sept. 21 – Golf Outing and Coaches Luncheon at Harborside International Golf Center, 11001 South Doty Avenue East, Chicago, IL 60628 7 a.m. Registration /9a "Shot gun start" 2:30 p.m. Coaches Luncheon. Tickets $1,200 foursome and $1,600 for foursome and Hole Sponsor Back to School Pep Rally featuring the drumlines from both schools at Daley Plaza, 50 West Washington St., Chicago, IL at 12 p.m. – 1 p.m.
• Saturday, Sept. 22 – CFC-HBCU College Fair is from 9 a.m. – 12 p.m. at Soldier Field in the United Club. The event will feature more than 30 schools and is open to the public.
BMO Harris Bank presents the Empowerment Summit, focused on money management. This HBCU College Fair event is co-produced by the City Colleges of Chicago and the Chicago Public Schools.
Chicago Football Classic Tailgating 11:30 a.m. – 3:00 p.m.

The High School Battle of the Bands – 12p.m.
The CFC Vendor Marketplace 1:30 p.m.
through the end of the game
Classic Kick-Off 3:30 p.m.
Battle of the College Bands – Half Time
Tickets are $18, $25, $35 and $45,
discount tickets are available at Walgreens.
Tickets may also be purchased at Midway Wholesalers, 41 W. 84th St.; (773-874-8000 x4025), Riteway-Huggins Construction, 1030 E. 87th St.; (773) 734-1600, Groupon and Ticketmaster.
This year, the CFC will raffle a new 2017 neon green Rocky Ridge Jeep Wrangler from Sherman Dodge to benefit the Chicago Football Classic Scholarship Fund. The CFC Scholarship Fund provides financial support for students attending the participating HBCU schools. A limited amount of tickets will be on sale for $100 and the winning ticket will be drawn at the end of the game.
Raffle tickets for the Rocky Ridge Jeep Wrangler are $100 and are available at Midway Wholesalers and Riteway Huggins Construction. For additional ticket, event and vendor information, visit the CFC website at www.chicagofootballclassic.org.
This year's 2018 Chicago Football Classic Co-Presenting sponsors are, BMO Harris Bank and Sherman Dodge, Comcast - NBC 5 Chicago, Telemundo Chicago and NBC Sports Chicago. Participating sponsors include: Ariel Investments, Aramark, Avión, CHA, the City of Chicago, the Chicago Park District, the City Colleges of Chicago, the Chicago Public Schools, Christmas in the Wards, Citizen Newspapers, ComEd, Crawford Broadcasting, CTA, Eastlake Management, Fifth Third Bank, Heneghan Wrecking Co., the Hudson Group, Illinois Secretary of State, Illinois State Treasurer, Illinois Bicentennial, iHeartRadio, Illinois Restaurant Association, INTREN, JB for Governor, Linn-Mathes, Local 134 IBEW, Loop Capital, Madison Construction, Midway Wholesalers, Manny's, MAC ONE Midway, McHugh
Construction, Mesirow Financial, Moet Hennessy, Peoples Gas, Providence Bank, Riteway-Huggins Construction, Self-Help Bank, Southwest Airlines, SSP- America, Starbucks Foundation, TrueStar, Uber, Vantage, Walgreens, Wintrust and WVON-AM.
About the Chicago Football Classic: The Chicago Football Classic's mission is to support educational achievement, promote higher education, encourage culture and excellence, and showcase the spirit and tradition of America's Historically Black Colleges and Universities by providing an exciting football game in Chicago that provides financial assistance to college-bound students.
The Classic's events influence students and parents to consider the rich academic opportunities offered by HBCUs.