THE HYDE PARK CHAMBER OF COMMERCE REBRANDS ANNUAL FALL EVENT
9/19/2018, noon | Updated on 9/19/2018, noon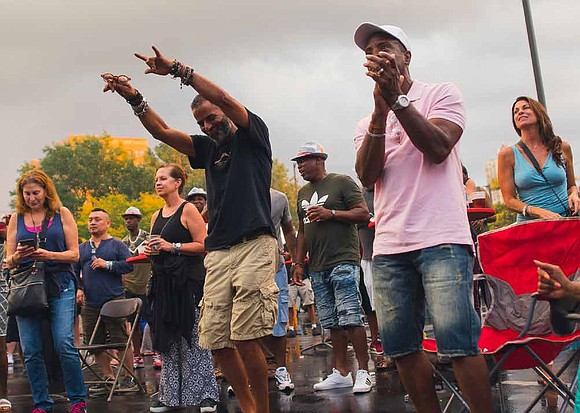 The Hyde Park Chamber Of Commerce Rebrands Annual Fall Event
BY KATHERINE NEWMAN
Over the weekend, the Hyde Park Chamber of Commerce hosted their annual fall festival which is now known as the Fall Forward Festival. The event was strategically rebranded based on community feedback and to make sure the festival was inclusive and inviting to all.
The Fall Forward Festival is a fundraiser for the Hyde Park Chamber of Commerce and was previously known as Brews, Brats, and Brass. Previously, the event had more of an Oktoberfest theme.
Jonathan Swain, president of the Hyde Park Chamber of Commerce, said the title was limiting and not a good representation of what the fall festival had to offer.
"Our title was not as inclusive and welcoming as we needed it to be and we heard a lot of people saying, 'I don't really like beer, so I don't want to come' or 'I don't really eat brats, so I might not want to come because there's nothing there for me' and that really was not the case. That's one reason we wanted to change the name," Swain explained.
The Hyde Park Chamber of Commerce is a membership-based organization for business people and community members.
It's mission is to assist local member businesses in conducting their business in the community.
"Our goal is to do three things for our members. One, we like to advocate for our members in any way they need advocating whether it be locally with the city agencies wherever they need help. Two, we provide exposure for them in a number of ways so that people can learn more about what it is that they do. Three, we like to give them information regarding things they need to understand about the community, change in the community, and growth opportunities, said Swain.
The Hyde Park neighborhood has always been a focal point on Chicago's south side and the Hyde Park Chamber of Commerce works to bring even more attention and business opportunities to the area, Swain added.
"Hyde Park has seen a great renaissance or rebirth over the past few years and we believe the Chamber has had a hand in helping bring activity to the neighborhood and letting people know about things going on in downtown Hyde Park through the events that we host. We're proud to be a part of a community that has such great diversity and events like this are an opportunity for us to celebrate that diversity we have in Hyde Park," Swain said.