Jobs On The Block Event Connects People With Potential Employers In Their Neighborhood
9/12/2018, noon | Updated on 9/12/2018, noon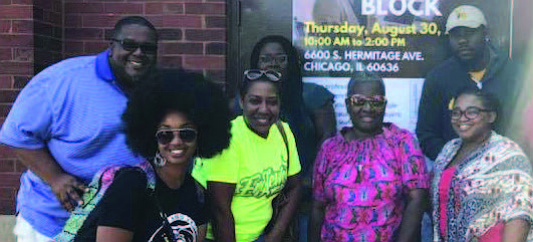 Jobs On The Block Event Connects People With Potential Employers In Their Neighborhood
BY KATHERINE NEWMAN
The Annual Jobs on the Block hiring event was recently held in Englewood on 6600 S. Hermitage Ave. The event is an initiative from the Englewood Quality of Life Plan and brought employers looking to hire into the neighborhood and also provided local employment resource organizations to help with people's current job needs and encouraged them to set
long-term career goals.
"The inspiration behind this event simply was that we started talking to individuals in our community and asking them what resources they would need to improve their quality of life and something that we heard often was a resounding 'jobs, jobs, jobs.' From there, we knew we didn't want to take the traditional route and have a job fair at a college or a job fair at any type of facility, we wanted to take the jobs to the block where the people were," said Cherice Price, owner of Price Workforce Development Solutions LLC.
The event was organized by two task forces from the Englewood Quality of Life Plan. The Englewood Quality of Life Plan was first created in 2005 and then recently revisited and restructured in 2016 to address the current needs of the Englewood community.
"The Englewood quality of life plan is comprised of five different task forces and the two task forces that collaborated to bring about Jobs on the Block were the Jobs and Economic Development Task Force and the Public Safety Task Force," said Price.
Knowing that it was unlikely for every attendee to receive a job at the event, outside organizations that assist with job readiness training, goal setting, and job development services were also in attendance to answer questions and give feedback to participants that weren't receiving the job offer they wanted.
For people who weren't able to attend the event at all, the Englewood Quality of Life Plan can connect anyone with appropriate job development services around the community.
There is also a list of all the employers that were present at the event and still may be hiring on the Englewood Quality of Life Plan website.
"We have access through the Englewood Quality of Life Plan portal, where individuals can go online and see the different resources and vendors that were at the event," said Maureen Perkins, public safety coordinator for Teamwork Englewood.
For more information and to view the list of vendors and employers that participated in Jobs on the Block visit www.engelwoodqualityoflife.com/jotb2018