COMED HOSTS FREE BRONZEVILLE MICROGRID SHOWCASE AND JOB FAIR
9/12/2018, noon | Updated on 9/12/2018, noon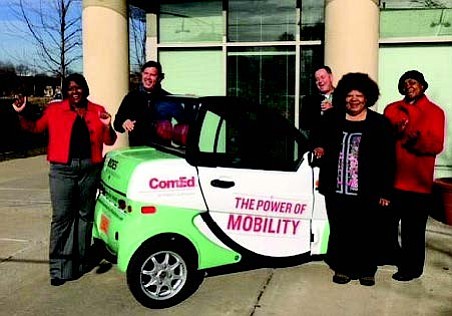 ComEd Hosts Free Bronzeville Microgrid Showcase and Job Fair
BY KATHERINE NEWMAN
The Microgrid Showcase and Job Fair, hosted by ComEd, will take place at the Illinois Institute of Technology's Hermann Hall from 10 a.m. to 2 p.m. Sept. 15 and will give an update on the installation of Bronzeville's Microgrid while the accompanying job fair will provide information about energy jobs.
Earlier this year, ComEd received approval from the Illinois Commerce Commission to build a microgrid in Bronzeville that will integrate renewable energy sources into the main electrical grid and maintain flowing electricity to the area if the main electrical grid were ever damaged.
Prior to beginning construction on the microgrid, ComEd had already selected Bronzeville as their Community of the Future and began piloting several sustainable energy initiatives in the community like smart kiosks, solar and wind turbines, and an electric vehicle to provide
affordable and emissions-free transportation for residents of the TRC Senior Village.
"We've been working in the Bronzeville area and engaging the community members since early 2016 around this concept that we refer to as a Community of the Future," said Melissa Washington, vice president of External Affairs and Large Customer Services at ComEd.
The event is completely free, open to the public, and all about giving the community an opportunity to learn about what makes Bronzeville unique by having so much new technology and the microgrid, according to Washington.
The Job Fair will give an introduction to a broad range of jobs in the energy field that are not specifically limited to working for ComEd.
"What we wanted to do is bring some of our workforce development partners out to talk about the training and also about job opportunities in the energy field," said Washington.
"There are a lot of partners who do other things in this space and we want to expose people to that and give them an opportunity to get introduced to anything from entry-level jobs all the way up to skilled and experienced positions in this field," said Washington.
Attendees who are interested in learning about energy jobs should come prepared to have meaningful and professional conversations with potential employees. ComEd is encouraging people to bring resumes, dress appropriately, and most of all, feel comfortable to ask questions and get advice on how to apply, interview, and obtain an energy job.
"Just come here knowing that you might get an opportunity to meet your next employer," said Washington.
Through the Community of the Future effort, ComEd has shown their commitment to learning what the communities are in need of and working to create sustainable solutions to fulfill those needs.
"The community is very important to us no matter what community it is. It can be Bronzeville now and it can be other communities later because we do want to try and understand how the Community of the Future concepts can be expanded to other communities around our territory," said Washington. For more information visit www.ComEd.com/future.