Chicago Park District Breaks Ground On Indoor Track and Field Facility
9/5/2018, noon | Updated on 9/5/2018, noon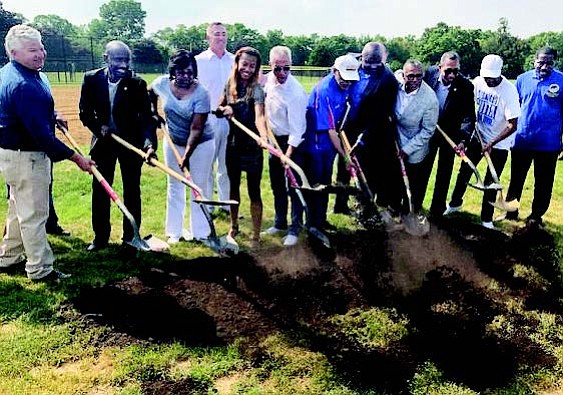 Chicago Park District Breaks Ground On Indoor Track and Field Facility
BY KATHERINE NEWMAN
A groundbreaking ceremony was recently held for the brand new state-of-the-art Gately Indoor Track and Field at 744 E. 103rd St. in Pullman which will be the Chicago Park District's first-ever public indoor track and field facility.
The 139,000 square foot facility will feature a hydraulically banked 200-meter track and an 8-lane track with full track and field event capabilities including long jump, high jump, a dedicated throwing cage, eight sprint lanes and a warm-up area. There will be a seating capacity of 3,500 with supporting amenities such as a meet management control room, concessions, multipurpose rooms and locker rooms, according to a press release from the Chicago Park District.
The new indoor Gately Track and Field will offer Chicago's athletes an opportunity that they have never had before, the ability to practice and compete during the winter.
"Many of our inner-city kids cannot compete with the schools down south for scholarships to division one schools with high profile track and field programs because during the winter, a lot of these kids are just running in gyms and running in hallways," said Nosa Ehimwenman, CEO of Bowa Construction, one of the lead construction partners on the project.
The hydraulically banked track at Gately Track and Field will be one of few across the country and the hydraulic's that are built into the track will allow for the curved portion of the track to be hydraulically lifted up and down to best serve the runners depending on the type of race that is being
conducted.
"For example, if it's a 400-meter sprint you're able to hydraulically bank the track and that increases your velocity but decreases your chances of injury. You're moving at such a high velocity but the hydraulically banked curve gives you the ability to continue your speed at a high velocity and not get injured," said Ehimwenman.
McHugh Construction is the other construction partner working on Gately Track and Field. Andrew Totten, vice president at McHugh Construction, has worked on several high profile sports facilities in the past and said what makes the Gately project different is that not only will it be a state of the arts sports facility, it will also be a program center for After School Matters, a non-profit organization that provides Chicago teens with after-school and summer programs.
"This is a challenging project with a really tight schedule and we're right at the edge of some of the new technology but even beyond that, it's a high profile project because it's going to provide a service and a great impact to the community and that's really what is so exciting about it. It's a challenging project but it's not just an apartment building, it's something that's really going to impact a lot of people's lives," said Totten.
Gateway Track and Field has a projected completion date of Spring 2020, according to Totten.