Balbo Drive Briefly Closed For Hoops in The Hood Cross-City Basketball Tournament
9/5/2018, noon | Updated on 9/5/2018, noon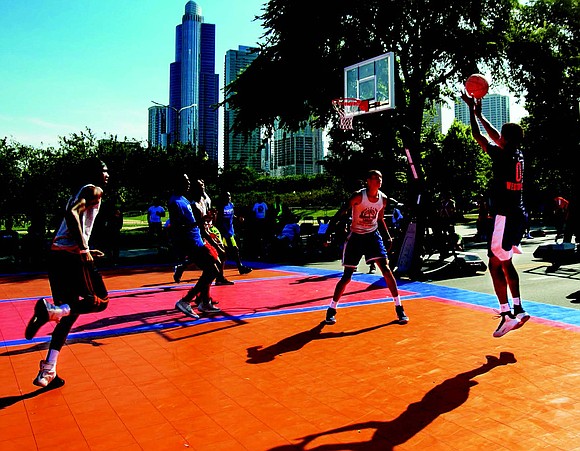 Balbo Drive Briefly Closed For Hoops in The Hood Cross-City Basketball Tournament
BY KATHERINE NEWMAN
The 12th Annual Hoops in the Hood Cross- City Basketball Tournament was recently hosted by Local Initiatives Support Corporation (LISC) Chicago and the Chicago Park District on a one-block stretch of East Balbo Drive, between Columbus and Lake Shore drives, which was closed for the day and transformed into seven basketball courts.
LISC is a national community development support organization, and LISC Chicago is the
local office that has been working in Chicago neighborhoods since 1980. LISC Chicago utilizes relationships with residents and community partners to create better opportunities within the neighborhoods it serves.
Hoops in the Hood is an initiative that was originally sparked by the Resurrection Project,
a multifaceted organization that blends community development, community organizing, human service delivery, and advocacy to build healthier communities, in the Pilsen neighborhood and was quickly adopted and expanded by LISC Chicago to address violence in several different neighborhoods across the city.
"We have partners across the city in a bunch of different neighborhoods so we pitched [Hoops in the Hood] to all of our them to see whether they would be interested in trying out something like this and they were. Now, 12 years later, we're in 15 neighborhoods all through the summer playing basketball and doing community building and then we come together at the end of the summer. We are 15 different neighborhoods but really just one Chicago playing together in the Cross-City Tournament," said Meghan Harte, executive director of LISC Chicago.
It is no small feat to close down any part of any major roadway in Chicago but LISC Chicago was able to secure the closure of Balbo Drive between Columbus and Lake Shore drives with the help of the Chicago Park District and for the day of tournaments, the block was transformed into seven basketball courts.
"We worked with the City and the Park District to close down a street and make it a really
big event. We had seven courts in the middle of the street on Balbo and 400 kids running around playing basketball, having lunch, meeting kids from other neighborhoods, hanging out with their friends, and just having a great time. There were lots of smiles. Even if they lost, we saw lots of smiles," said Harte.
Hoops in the Hood is the "cheapest investment anyone could make at keeping kids active," Harte said. LISC Chicago puts about $100,000 into the Hoops in the Hood Program each summer and that money reaches 3,000 kids, meaning that the program roughly costs $30 per child, according to Harte.
"That's what this costs and it keeps kids active at least one if not a couple times a week
during times when violence could happen and I think that's the important thing. Th is is the
cheapest investment with the biggest impact for just keeping kids active and building community," said Harte.
To learn more about LISC Chicago visit www.lisc.org/chicago.