UNCF CELEBRATES 35 YEARS OF THE WALK FOR EDUCATION
9/4/2018, 1:57 a.m. | Updated on 9/4/2018, 1:57 a.m.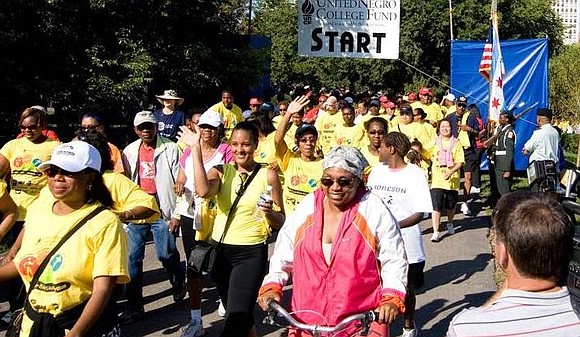 UNCF CELEBRATES 35 YEARS OF THE WALK FOR EDUCATION
The Chicago office of UNCF, 35th Annual Walk for Education, 5k/10k walk. Participants of the event can choose to either walk or run a 5k course, or bike or skate a 10k course. The Walk raises more than $100,000 for scholarships.
Returning as emcee is journalist Art Norman, a longtime advocate of UNCF, since the Walk began in 1983. Other emcees: iHeart radio personalities Bioncé Foxx, Sonya Blakey and Leon Rogers. Guest DJ Boulumaster brings the music. Personal trainer Siddiqu leads warms up. September 8, 2018, Registration begins at 7 a.m. | Race begins at 9 a.m. 39th & Lakeshore Drive, Burnham Park, Grove 7.
Cook Country Board President Toni Preckwinkle serves as Honorary Chair and will be in attendance to help honor Norman and kick off the event.
There are many ways to participate. You can register as an individual, as part of a team or you can make a donation to support a team. The event invites persons of all abilities to participate in the 5k or 10k levels. Register onsite day of the Walk; registration fee ranges from $15 to $40. For more information on the Chicago UNCF Walk for Education, please visit www.uncf.org/chicagowalk or contact the Chicago UNCF office at (312) 845-2205. Visitors are also welcome in person at 105 W. Adams Street, Suite 2400 in Chicago.
2018 sponsors are: NBC 5 Chicago, iHeart Media/Chicago, Cook County, American Airlines, BMO Harris Bank, Chicago Defender, Discover, GCM Grosvenor, Chicago Park District, Chicago Housing Authority, Nan McKay and Associates, Inc., Aldi, Aramark, and Wintrust.
UNCF introduced its iconic slogan "A Mind is a Terrible Thing to Waste" in 1972 and it was the start of one of the most successful public service campaigns. UNCF is the nation's largest and most effective minority education organization. For 74 years, UNCF has provided financial and technical assistance to our 37-member HBCUs. Without UNCF's support, many of the students at these HBCUs would not have access to higher education or the benefits that it provides. UNCF has a long and strong commitment to Chicago. More than 1,500 students in the city, and in Illinois, are getting their education at UNCF member institutions and with UNCF scholarships at colleges and universities across the country.