TWO NATIONAL ORGANIZATIONS PARTNERED TO PILOT TECHNOLOGY WORKSHOP FOR GIRLS IN CHICAGO
10/31/2018, noon | Updated on 10/31/2018, noon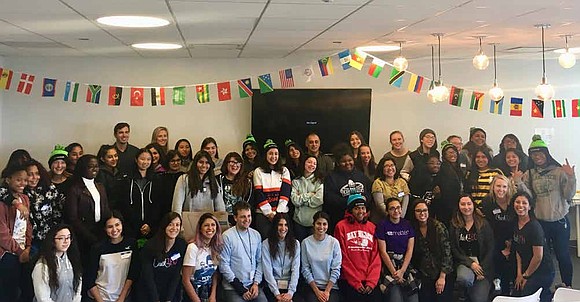 Two National Organizations Partnered To Pilot Technology Workshop For Girls In Chicago
BY KATHERINE NEWMAN
Deloitte, a national public accounting firm, recently partnered with ChickTech, a national non-profit, to create and pilot the Internet of Things workshop for high school girls. The workshop is being piloted in four different cities, with Chicago being the first, and is designed to expose young women to science, technology, engineering, and math (STEM) in a hands-on environment.
ChickTech is a nonprofit organization with 27 chapters in the U.S. and Canada and works to retain women in the technology workforce and increase the number of women and girls pursuing technology- based careers.
Deloitte is a public accounting firm that provides industry-leading audit, consulting, tax and advisory services to many of the world's biggest brands, including more than 85 percent of the Fortune 500 and more than 6,000 private and middle market companies.
"My biggest driver to set up the Chicago chapter of ChickTech was to be able to provide opportunities to young women on the south side and the west side that have the aptitude and have the skill but don't know that they can do this work. For me, I have always said that if I could just find one girl and prevent her from taking my path of not knowing what I wanted to do in high school and if I could connect with her and get her going and remove that self doubt and those obstacles it would totally be worth it," said Nicole Frapolly, program director for ChickTech Chicago.
The Internet of Things workshop was piloted in Chicago this month and will be piloted again in San Francisco in November, New York City in December, and Dallas in January. Deloitte professionals are leading the workshops and providing students with an Internet of Things kit to build. Deloitte is also providing the kit materials for the four workshops which includes electronics, software, and WiFi connectivity that are all used by the students to create a device that will secure their personal space, like a bedroom, and notify them if someone enters their space while they are away.
Together, through this workshop, Deloitte and ChickTech are hoping to be able to make a dent in the gender gap that exists across the STEM field and get more girls interested in tech careers early.
"I was walking around throughout the day and I got to see the girls go from being a little bit shy and timid and not really knowing what to expect to being confident, smiling, laughing, and getting to know each other," said Frapolly. "It was really amazing to watch the girls go from so unsure to totally confident in the span of a few hours. At the end of the day they were all walking around with what they had built and showing each other and showing their leadership team and that sense of pride was amazing to witness."
To learn more about ChickTech Chicago visit www.chicago.chicktech.org.