Bank president aims to revitalize the South Side
10/31/2018, noon | Updated on 10/31/2018, noon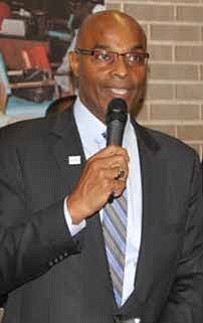 Bank president aims to revitalize the South Side
BY WENDELL HUTSON
The new president of Seaway, a division of Self-Help Federal Credit Union, said he is on a mission to help revitalize the South Side through partnerships with nonprofits, elected officials, community stakeholders, and local businesses.
At an Oct. 25 community gathering at Seaway, 645 E. 87th St., Daryl Newell, president of Seaway, laid out his vision for improving Seaway, once Chicago's largest black-owned bank, and bringing more economic development to the
South Side.
"One thing I want to do is use our partnerships to increase our impact. By ourselves we are just another financial institution, but with you [the community] we can start to make a difference," said Newell. "I also want us to deploy more loans to the community, embrace innovation, and we want to be accountable to everyone regardless if you bank with us or not."
He added that Seaway is in discussions with Chicago State University to install solar panels for commercial use, and the nonprofit Neighborhood Housing Services of Chicago, will soon move into an adjacent office building at the bank to further its partnership with Seaway.
The three-hour event was a way for Seaway to introduce Newell, who was hired in August, to the community. Local residents like Beverly Johnson said she was happy to see him join their neighborhood family.
"I've lived in Chatham since 1972 and I was the first customer to receive a loan from Seaway after it was sold to Self-Help," said Johnson. "The people who work at Seaway are wonderful and Mr. Newell is a fine man who I trust will keep the legacy of Seaway Bank going for a long time."
Larry Barber, 69, lives in Park Manor and said he was glad to see Seaway at the forefront of economic revitalization in Chatham.
"The South Side needs a magnet to help businesses grow and to attract new businesses that's needed in the community, and Seaway Bank has stepped up to be that anchor," said Barber. "Chatham, Park Manor and other neighborhoods have lost many businesses over the years and the once vibrant economy these
neighborhoods shared is gone. But it sounds like Seaway Bank will do what it can to bring it all back."
Elected officials that attended the gathering included Cook County Board President Toni Preckwinkle and Alderman Roderick Sawyer (6th), whose ward includes Seaway.
"We are looking forward to great things happening here. Not just in the sixth ward but in all my adjourning neighborhoods," said Sawyer. "We want to see real economic development, with real partners and with real money behind it."
Since May 2017, when Seaway became a division of Self-Help, Newell said the bank has been offering financial services and making loans to people aspiring to buy their first home or open a small business. Prior to becoming president Newell was Seaway's chief retail banking officer. Before joining Seaway, he was a retail regional manager at Fifth Third Bank, and before that he served as director of the Consumer Banking Group at Urban Partnership Bank.
Newell said his philosophy to Seaway succeeding is simple.
"I believe that for us [Seaway] to truly be effective in the community we need everybody to get involved because when that happens everybody wins."