South Side Filmmaker Premiers New Movie Titled Law of Moises
10/24/2018, noon | Updated on 10/24/2018, noon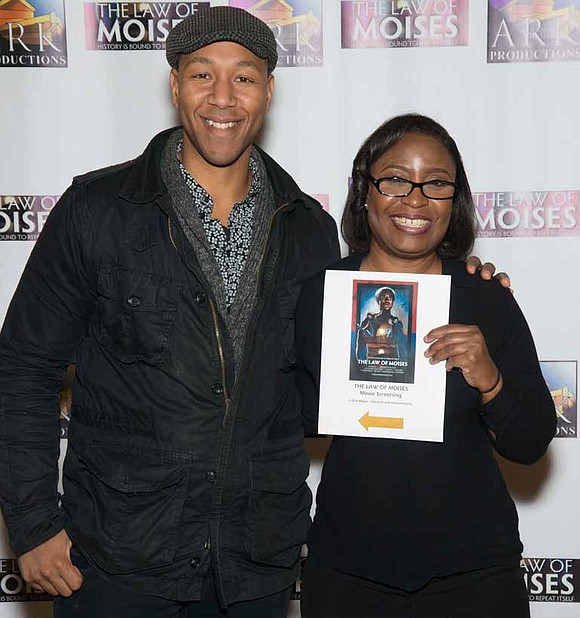 South Side Filmmaker Premiers New Movie Titled Law of Moises
BY KATHERINE NEWMAN
Two recent events were held in Chicago to celebrate the premiere of Law of Moises, a new film that was written, produced and directed by Crystal Barnes. Barnes, who lives in Greater Grand Crossing and grew up on the south side of Chicago, is a 20- year veteran in the film industry.
Law of Moises is a film that depicts a modern day tale of Moses set in the small town of Cairo, Illinois which is bordered on the east by the Ohio River and on the west by the Mississippi River. The main character, Moises, is an aspiring young filmmaker who wants nothing more than to leave the Cairo. Strange things begin happening in Moises' hometown like a plague of locusts, frogs, and something that seems to be blood flowing in the Mississippi River. Moises soon discovers that the Mayor is responsible for destructing the town and all of the strange happenings are part of his evil plan to misuse a $30 million fund. After a little push from his sister, Moises concludes that he must stay and save the town of Cairo from the Mayor.
"I wanted to do somewhat of a faithbased film but obviously, because of the budget, I couldn't do an epic film that took place during biblical times. I wanted to do something that families could go to and kids could go to that would be like Sunday school but not have people feeling like they were being preached to and I wanted to make it fun and light," Overall, Barnes has been working on this particular film for 9 years and said that she was very nervous for the premiere. After the movie was shown her nerves were quickly settled by the positive response from the audience.
"I was very encouraged by the crowd. They were very enthusiastic and very supportive and I couldn't have asked for more. I had a lady stand up and say 'I'm agnostic and I didn't feel that this was preachy at all,' and that was exactly what I set out to do," said Barnes. "I wanted to tell this contemporary story that wasn't over the top, not preachy, and something that could be entertaining for people."
Several members of the production crew that Barnes hired were from the south side and she said that she was inspired by the people she met through this project that are interested in filmmaking or are already working in the film industry and trying to find a way to make it work for them.
"I heard from some of the crew members how excited they were to see their name on the screen after working so hard to get this film finished," said Barnes.