New Public Art Work Dedicated At 39th Street Lakefront
10/24/2018, noon | Updated on 10/24/2018, noon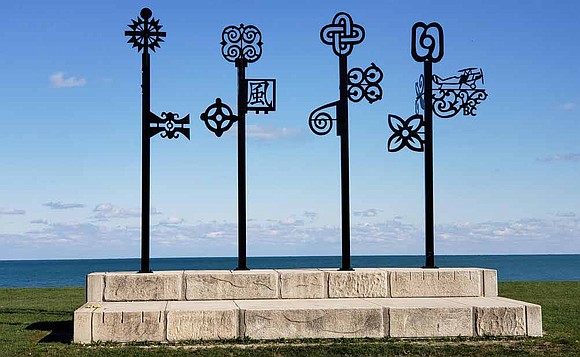 New Public Art Work Dedicated At 39th Street Lakefront
BY KATHERINE NEWMAN
A dedication ceremony was recently held for a new sculpture, Letter to Bessie Coleman, that was installed at 39th Street and Lake Shore Drive on the lakefront. The public artwork is a result of Chicago's 50x50 Neighborhood Arts Project and was created by Bernard Williams, a local southside artist, in partnership with 4th Ward Alderman, Sophia King.
Letter to Bessie Coleman is an outdoor steel sculpture that features four 17-foot steel poles with a different group of symbols attached to each pole representing a wide variety of cultures. The sculpture is intended to encourage cross-cultural connections and remind Chicagoans of their shared history, according to information from Alderman King's office.
"In a lot of ways, it's a very simple design and construction which was important for me because this wasn't a big-budget piece of art. The piece is in a lot of ways relatively simple but the poles are also about 17 feet high so I think that helps to give it a presence," said Williams.
This project was a collaborative effort been the Chicago Department of Cultural Affairs and Special Events (DCASE), The office of Alderman Sophia King, Bernard Williams, and Archi-treasures, an arts-based community development organization that worked with Bernard to pitch this project to the Alderman.
"The Mayor designated 2017 as the year of public art and the Department of Cultural Affairs and Special Events put up 50x50 Neighborhood Arts Project where they invited artists and arts organization to submit their qualifications so each Ward and each Alderman could choose who they wanted to carry out a distinct art project within their ward," said Manwah Lee, executive director of Archi-treasures.
Through the 50x50 Neighborhood Arts Project, the City of Chicago made a $1 million investment in artist-led community projects and commissioned dozens of local artists to create new sculptures, murals and other public artworks in all 50 wards.
"Letter to Bessie Coleman is significant because we looked at various locations within the 4th Ward and fortunately with the partnership of DCASE and the Chicago Park District and the Alderman we were able to secure the lakefront location at the 39th Street beach. There is not a lot of artwork that is readily available to residents in that location and this really stands out
as a neighborhood marker now," said Lee.
Being on the lakefront is special for many reasons, especially for Williams who said he views this opportunity as a milestone for his career as an artist.
"It's not easy to get a location like this for a sculpture. The Park District typically reserves these locations for artists with a very long career with a lot of success behind them and a lot of money. I feel extremely fortunate to have landed this site and I think it was possible through a mixture of luck and the alderman giving a nice push," said Williams.