FIRST BLACK WOMAN NAMED PRESIDENT CHICAGO NEIGHBORHOOD INITIATIVES MICRO FINANCE GROUP
10/24/2018, noon | Updated on 10/24/2018, noon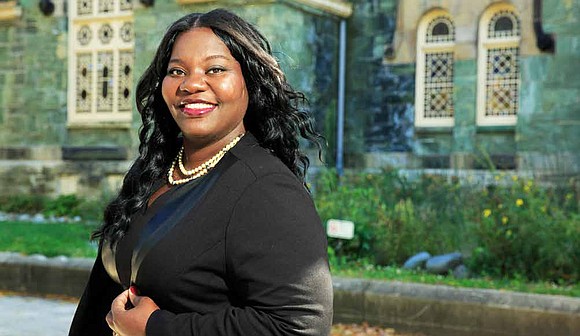 First Black Woman Named President Chicago Neighborhood Initiatives Micro Finance Group
BY KATHERINE NEWMAN
Erica King, formerly Vice President of Lending at Chicago Neighborhood Initiatives Micro Finance Group (CNIMFG), was recently promoted to President. In her new role, King is now one of the few minority women in the country leading a financial services organization. King plans to continue moving forward with the momentum she built as vice president and continue to grow and expand CNIMFG lending portfolio.
"I'm definitely very excited to have the opportunity to lead a loan fund and to help small businesses. This is something that I have been doing for my entire career and it's really empowering and rewarding," said King.
CNIMFG is a nonprofit micro-lender and certified Community Development Financial Institution (CDFI). Since its inception in 2012, CNIMFG has invested more than $2 million into Chicago's business community which has contributed to the growth of more than 100 minority-owned small businesses. King said that as president she plans to grow CNIMFG even more and expand the number of businesses that exist in their lending portfolio.
"I hope to expand the portfolio. We've worked with over 100 businesses since inception and there is certainly a need beyond that number. I would like to get to a point where we can continue to raise capital and continue to deploy more loans than we have in the past," said King.
Expanding the lending portfolio will help King to encourage more investment into the loan fund and she also hopes to expand the amount of money that they are able to lend, which is currently capped at $50,000 per business.
"We currently offer up to $50,000 for small businesses and again I know the need is greater than that. There is still a grey area for small business lenders and microlenders that are CDFIs within that $50,000 to $100,000 space and I'd like to be in that space eventually. We have to continue to grow our lending portfolio so we can absorb larger loans," said King.
The other major element of CNIMFG that King plans to expand is their network of resources for loan recipients.
"We are a lender but we are very much a business adviser to those folk who allow us to be engaged in their business so I would like to continue to offer training programs, which right now, are very informal. In the future, I would like to offer more formal training programs for our borrowers to help them scale. It's one thing to provide the capital and its another thing to provide resources and ongoing technical assistance to ensure that businesses are able to scale and grow," said King.
Although King has been overseeing the loan fund as Vice President of Lending for quite some time, she said that it means the world to her to have been given the autonomy to take the loan fund in the direction that she sees fit.