YMCA OF METRO CHICAGO EXPANDS YOUTH SAFETY AND VIOLENCE PREVENTION PROGRAM
10/10/2018, noon | Updated on 10/10/2018, noon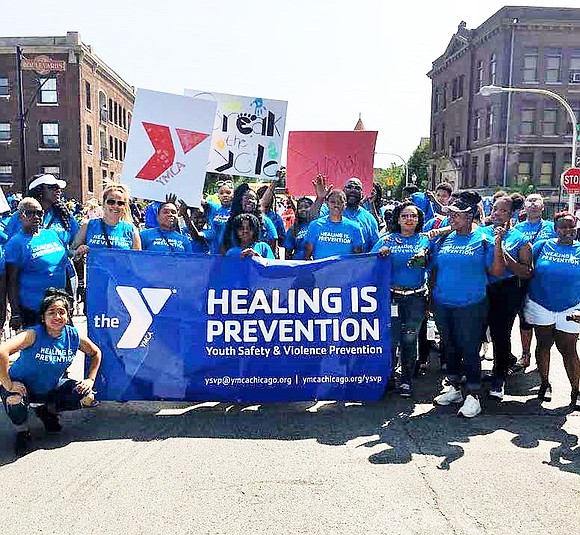 YMCA OF METRO CHICAGO EXPANDS YOUTH SAFETY AND VIOLENCE PREVENTION PROGRAM
BY KATHERINE NEWMAN
The YMCA of Metropolitan Chicago recently received a $1 million grant from the Illinois Criminal Justice Information Authority and funding from the federal Victims of Crime Act Community Violence Program that will allow them to expand their Youth Safety and Violence Prevention (YSVP) initiative to the Woodlawn and South Shore communities as wells as broaden mental health services throughout the city.
"Our desire at YSVP is to provide trauma-informed care to individuals and families with high levels of exposure to trauma. We have intentionally attempted to first identify neighborhoods that are in need of our services where a Y is already located so we can utilize our place-based approach. Woodlawn and South Shore are communities that have been heavily affected by violence, poverty, and other socioeconomic factors that contribute to high doses of trauma," said Chico Tillmon, executive director of YSVP for the YMCA of Metropolitan Chicago.
The mission of the YMCA of Metro Chicago is to develop strong children, families, and communities across Metropolitan Chicago through academic readiness, character development, violence prevention, and fitness and healthy living, according to their website.
The YSVP initiative falls under that over-arching mission and follows a comprehensive trauma-informed mentoring approach to violence prevention and currently serves in Austin, East Garfield Park, Humboldt Park, Logan Square, Lower West Side, South Chicago, South Lawndale, and West Garfield Park neighborhoods.
The grant money is allowing the initiative to expand to Woodlawn and South Shore. The YSVP expansion will also increase mental health services for youth, families, staff, and volunteers who will now have access to mental health evaluations and professional counseling that will be provided by Rush University Medical Center.
"This work is in line with Rush's commitment to improving the overall health and well-being of communities on the west side. Through our engagement with the community, we know that mental health is a top priority. Our work with the YMCA will help address this critical need," said Darlene Hightower, associate vice president of the Office of Community Engagement and Practice for Rush University Medical Center, in a press release about the YSVP expansion.
Funds from the Victims of Crime Act Community Violence Program support case managers, who will provide education regarding resources, offer transportation to and from appointments, refer clients to clinical services, and accompany and advocate for victims as they navigate health systems. The new funding will also allow YSVP team members to collaborate with outreach specialists to facilitate connections to outside services for clients who have complex areas of need, according to a press release announcing the expansion.
"YSVP is thrilled to work with Illinois Criminal Justice Information Authority to expand our reach, quell violence, and promote healing through trauma-informed care. With support from Illinois Criminal Justice Information Authority, we will continue to provide place-based services to youth and families impacted by violent crimes," said Tillmon.
To learn more about the YSVP initiative visit www.ymcachicago.org/programs/ youth-safety-and-violence-prevention