South Suburban Job Fair Connects Over 100 Residents With Employment Opportunities
10/10/2018, noon | Updated on 10/10/2018, noon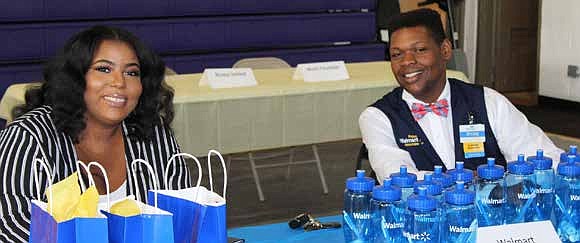 South Suburban Job Fair Connects Over 100 Residents With Employment Opportunities
BY KATHERINE NEWMAN
The Blue Island/Robbins Neighborhood Network recently held their first job fair for the community. There were over 50 employers present from the surrounding area and over 100 potential employees attended the event. The Job Fair was hosted to help local residents access employment opportunities that would be closer to home and improve their quality of life.
The Blue Island/Robbins Neighborhood Network is part of the United Way of Metropolitan Chicago and brings together community members and stakeholders, like schools, businesses, churches, and hospitals, to develop a strategic plan that addresses community issues and how to solve them.
"The job fair is just one other way that we were able to, as a network of
not-for-profits, partner with the business community to help provide resources to the residents of Blue Island and Robbins. That was our big goal, to partner with the business community and this job fair was a great way to do that," said Kentric Benson, project coordinator for the Blue Island/ Robbins Neighborhood Network.
There were about 50 employers present at the Job Fair and over 150 potential employees attended the event, according to Benson. Local businesses like the Robbins Action Committee and Beggars Pizza were present with available jobs as
well as large companies with local opportunities like Allied Universal, Target, and Walmart.
"We reached out to some of the employers right here in the community like people who own restaurants, people who own bars, people who have some entry-level jobs, and we had a few of them actually set up interviews. A lot of the other
jobs were in the surrounding south suburban areas," said Benson.
It was important for the Blue Island/Robbins Neighborhood Network to create a job fair that showcased employment opportunities in the community and the nearby neighborhoods to help residents become employed in a way that would be sustainable for them.
"The one thing that we found, especially in these two suburban communities, is that a lot of people go out of the community and into the city of Chicago or into the
western suburbs to work. We tried to invite employers who were in the surrounding suburbs like Walmart in Country Club Hills, someplace close where people can actually get to work versus having to take a couple of buses and a train to be able to get to work," said Benson.
For people who weren't able to attend the Job Fair, there are still employment
opportunities available. The Blue Island/Robbins Neighborhood Network hosts an online job board that is updated weekly.
"We have a job board on our website and every week we post jobs and we try to keep it updated at least every other week. People who missed the job fair can go there and they can still find job opportunities that they can reach out to," said
Benson. "We told all the employers that came out to let us know when they have openings."
The job board can be found at www.servebir.org.