The SOPHY Hyde Park Hotel Is Officially Open For Business
10/10/2018, noon | Updated on 10/10/2018, noon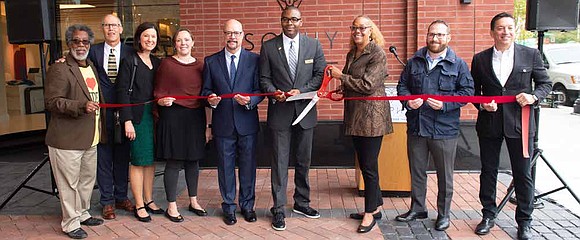 The SOPHY Hyde Park Hotel Is Officially Open For Business
BY KATHERINE NEWMAN
A ribbon cutting ceremony was recently held for the SOPHY Hyde Park, a brand new 98-room boutique hotel in Chicago's historic Hyde Park neighborhood. The hotel was co-developed by SMART Hotels LLC and The Olympia Companies and is managed by Olympia Hotel Management.
SOPHY Hyde Park is located at 1411 East 53rd St. near the site of the future Barack Obama Presidential Center, the University of Chicago and the Museum of Science and Industry. The hotel features a full-service restaurant, Mesler Kitchen, and is a member of the Preferred Hotels and Resorts Lifestyle Collection. "Chicago, for decades and decades, has been known as a big convention town but increasingly what we also know is that lifestyle hotels, boutique hotels, and neighborhoods have
become so much more important in terms of the fabric of a tourism destination. People want real experiences when they travel. They want to be in neighborhoods that they identify with, they want to find the newest coolest things, to stay off the beaten path, and to see the history of a community represented. All of that is here at their fingertips," said David Whitaker president and chief executive officer of Choose Chicago, the official destination marketing organization for the City of Chicago.
Developers and stakeholders believe that SOPHY Hyde Park will offer visitors a genuine and unique Chicago experience by being located in one of the most diverse areas of the city that also happens to be a neighborhood with a rich history of art, culture, innovation, and education.
The design of the guest rooms was inspired by the history of art in Hyde Park and each room is embellished with an 8 foot abstract painting by local artist Joey Korom, and is finished with books, ornaments and even a record player with a selection of local musicians on vinyl, according to a press from SOPHY Hyde Park.
"We now have the first upscale boutique hotel in Hyde Park ever. As a former resident, continuing to be a part of this ever-growing vibrant neighborhood and being with everyone here today in the community is such a blessing. This couldn't have been done without a number of partners and a number of community members to get to this point," said Anthony Beach, general manager of SOPHY Hyde Park.
Several people at the ribbon cutting ceremony spoke about the valuable partnerships that made this project work. A variety of people were involved at every stage of development including executives from SMART Hotel and the Olympia Companies, the local Aldermen, members of the community, and even students from the local high school. Everyone was invited to share their vision for SOPHY Hyde Park.
"This is truly a community event because so many people participated in making this happen," said 5th Ward Alderman, Leslie Hairston.
To learn more about SOPHY Hyde Park or book a room, visit www.sophyhotel.com.