BLUE WAVE DEMOCRATIC DINNER HOST STATE AND LOCAL DEMOCRATIC OFFICIALS
10/10/2018, noon | Updated on 10/10/2018, noon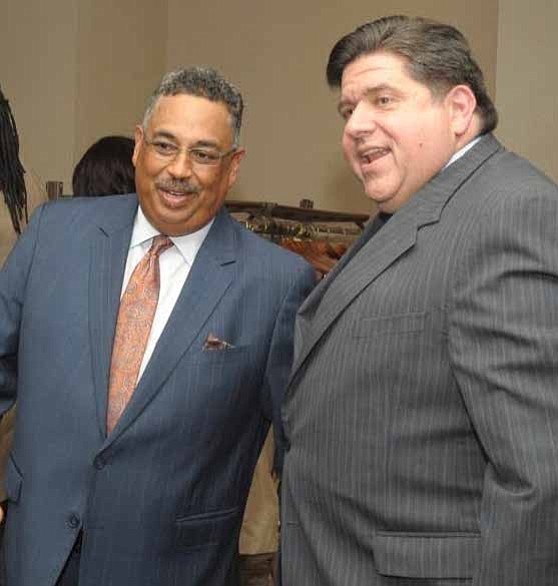 Blue Wave Democratic Dinner Host State and Local Democratic Officials
BY KATHERINE NEWMAN
The Rich Township Democratic Organization recently held their Annual Democratic Dinner at the Idlewild Country Club in Flossmoor. This year's theme was Join the Blue Wave and featured special guests like J.B. Pritzker, Democratic Candidate for Governor, and Senator Toi Hutchinson, 40th District of Illinois.
"Normally if we have an event in the fall it's been small but this time we decided to raise the bar," said Calvin Jordan, Rich Township Democratic committeeman.
The Rich Township Democratic Organization supports the principals of the Democratic Party and the Constitution of the United States while also encouraging Rich Township residents to become more involved in the Democratic process
through voting. Rich Township is part of Chicago's South Suburban community and includes all or part of Country Club Hills, Flossmoor, Hazel Crest, Homewood, Matteson, Olympia Fields, Park Forest, Richton Park, and Tinley Park.
What the Rich Township Democratic organization, and Calvin as committeeman, try to do is connect with local, state, and national Democratic officials and candidates to bring them into the region and help to educate the community on their platforms as well as hear from the community about their concerns.
"What I try to do is get ahold of the people who are running to let them know that Rich Township exists so that they can come out and have a chance to give their spiel. I've been working with J.B. Pritzker since the start of his campaign and he's come out several times and talked to various different groups," said Jordan.
Special guest speakers at the Democratic Dinner included J.B. Pritzker, the Democratic candidate for governor, and Illinois State Senator Toi Hutchinson who gave the Keynote speech. Jordan said that it's not always easy getting democratic
representatives to come out and speak to members of the Rich Township community but it is always worth the effort.
"Since I've been committeeman, we've invited several people out to speak about what they do and how it relates to the area," said Jordan. "We work closely with all the municipalities and try to get people to have a dialogue about what's going
on and understanding what each elected official does which is really important."
As a result of the event, several people expressed their interest in getting more involved in democratic efforts in their communities which Jordan said he is elated about.
"We had a lot of people come out and express an interest in getting involved and what we're in the process is doing now is just trying to make sure everyone is registered to vote, and then at the same time encourage them to get their neighbors and other people to come out and actually vote. That's the biggest problem that we've got, I run into people all the time that say they don't know when the election is," said Jordan.
For more information about the Rich Township Democratic Organization visit www. richtownshipdemocratic.org.