6th Annual Tech Thursday Event Teaches Businesses How To Use Technology To Grow
10/10/2018, noon | Updated on 10/10/2018, noon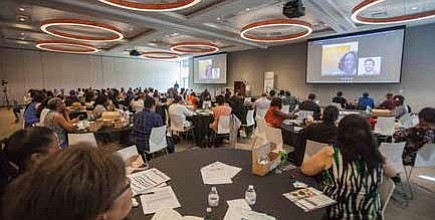 6th Annual Tech Thursday Event Teaches Businesses How To Use Technology To Grow
BY KATHERINE NEWMAN
The Greater Southwest Development Corporation (GSDC) recently hosted their 6th annual Tech Thursday conference. The event, held at Malcolm X College, exposed current and potential business owners to new technology concepts and technology training that will help to grow businesses and further develop Chicago's small business community.
The Tech Thursday annual conference is Executive Produced by the nonprofit Greater Southwest Development Corporation and various local Associate Producers, under the direction of the sales, marketing, and management firm Blue Ocean Logic, Inc. This series registers more than 300 local small businesses and 30 exhibitors every year.
This year's free event offered over 50 free business technology management workshops, labs, and forums over the course of two days. Each workshop presented practical and affordable technology solutions to help business owners advertise, accelerate, and maximize their business growth, according to a press release about the 2018 Tech Thursday Conference.
"Six years ago, I started meeting with a few local business owners here to talk about what's happening in their business and realized how little they are engaged with technology," said Christine James, director of operations for the GSDC and the producer of Tech Thursdays.
"We know that local businesses in our communities need some support when it comes to understanding and implementing technology. It can be expensive, it can be confusing, and often times new information is best learned with others where there is no judgment. Those are the goals of the conference, to provide a level of access to technology learning to our small business communities across Chicago," said James.
Workshop topics included how to improve marketing, selling, productivity, and business management tactics through the use of technology.
"I think that this event is beneficial to helping small businesses to get a better understanding around technology. There are a number of different topics that are covered form a technology perspective and I think it's all important. A small business looking to expand or to create more efficiency around their operation
can definitely benefit from participating in this conference," said Cyrus Walker, managing principal for Data Defenders, LLC and a Tech Thursday presenter on cybersecurity.
Technology can make or break a small business, which is why Tech Thursday has become so important to community business owners. The City of Chicago's Department of Business Affairs and Consumer Protection attended this year conference and found the information to be valuable.
"One of the areas that the City of Chicago has been intentional about focusing on is business owners of color and women-owned businesses that have been traditionally disadvantaged and because of that there is always this gap and you end up with some businesses that are a little bit more sophisticated than others and so I think that this conference helps to bridge that gap," said Kenya Merritt, chief small business officer for the City of Chicago's Department of Business Affairs and Consumer Protection.