AT&T LAUNCHES BELIEVE CHICAGO INITIATIVE TO PROVIDE NEW OPPORTUNITIES
10/8/2018, 1:14 a.m. | Updated on 10/8/2018, 1:14 a.m.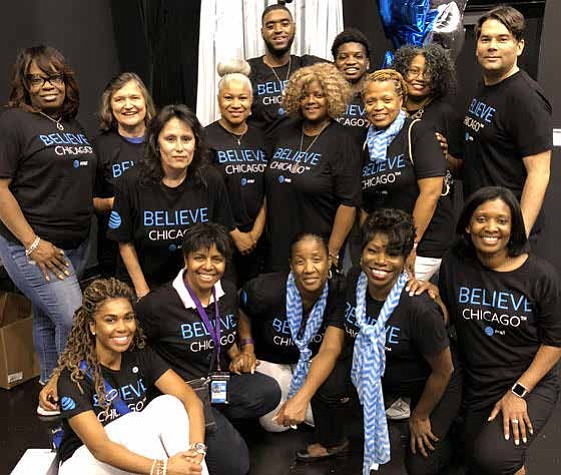 AT&T Launches Believe Chicago Initiative To Provide New Opportunities
BY KATHERINE NEWMAN
Major tv, internet, and phone provider, AT&T, recently launched Believe Chicago which is an initiative to help provide support for minority communities in Chicago. Through the initiative, AT&T will be investing $2 Million into grassroots community organizations and creating over 400 new jobs for people living in underserved communities and experiencing poverty.
Believe Chicago is an AT&T employee initiative intended to improve the quality of life in 19 Chicago neighborhoods that are heavily affected by gun violence and high unemployment.
"Many of our employees live and work in neighborhoods that are heavily impacted by gun violence and high unemployment. Through their existing efforts, we have gotten more engaged and they have inspired the company to bring more assets to help. They're passionate about wanting to do more and we're committed to supporting their efforts," said John Donovan, CEO for AT&T Communications.
The Believe Chicago initiative is based around the notion that if big businesses truly invest in the communities they serve, they can create positive change and help to curb some of the negative realities that often occur when neighborhoods experience disinvestment by other companies.
"AT&T believes that we are a part of the core fabric of Chicago. We have 16 stores, 102 retail partners, 70 company buildings more than 2,000 employees who live in various Chicago neighborhoods. Since we're part of these communities, we understand well what goes on in Chicago," said Donovan.
Aside from adding new jobs, the program will provide training programs for residents of the Believe Chicago communities and spearhead several community service projects because AT&T believes that everyone deserves to live and work in safe places, according to a press release from AT&T about the Believe Chicago initiative.
"AT&T is a company that has the resources to help make a difference in these communities. We want to improve lives and lift Chicago neighborhoods that have suffered due to negative elements in the community. We know AT&T alone can't stop the violence in Chicago. That's not our goal. Instead, we're working with employees and community leaders to address some root causes by promoting hiring, training, and opportunity – and make sure the good news gets out along the way. This is the obligation that we've embraced through the Believe Chicago program," said Donovan.
This is the first step for AT&T to address some of the issues that are most important to their employees. The company hopes that by focusing its resources on improving the communities that they serve, they will be able to create a better quality of life for their employees and consumers and be able to provide them with opportunities to succeed in their education, careers, and life.
To read employee testimonials and learn more about AT&T's Believe Chicago initiative, visit www.believechicago.com.