High School Students Compete In Cooking Up Change Competition
11/28/2018, noon | Updated on 11/28/2018, noon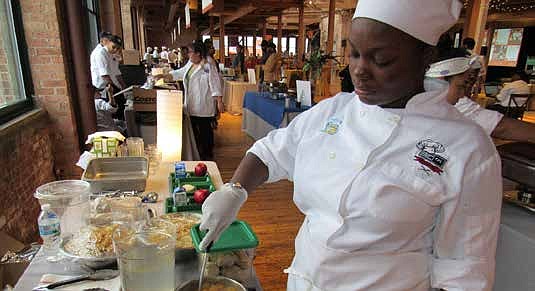 High School Students Compete In Cooking Up Change Competition
BY KATHERINE NEWMAN
Students from Chicago Public High Schools recently competed in the Healthy Schools Campaign's Cooking up Change contest.
Students were asked to create healthy and delicious school meals that their peers would enjoy while meeting strict nutritional standards and a tight budget.
The Healthy Schools Campaign is a nonprofit organization dedicated to ensuring that all students have access to healthy school environments where they can learn and thrive, according to their website.
"We've been around for about 15 years or so and we operate on the premise that healthy kids are better learners. Everything that we do is focused on helping to make sure that schools are safe and healthy places where students can learn and thrive. We look at school food, the amount of physical activity that students are getting, what sort of cleaning products are
being used, whether or not there are school nurses on site, really all the things that go into making sure that schools are a safe and healthy environment," said Sara Porter, vice president of External Affairs for the Healthy Schools Campaign.
Cooking Up Change is a culinary competition that was founded by the Healthy Schools Campaign to give students a fun way to have their voices heard when it comes to the meals they eat at school. The student chefs work to create school meals that are healthy and that taste good while still following strict nutritional standards and staying within the normal budget which is about $1.40 per meal.
"The program is a competition for high school students, that are part of a culinary program that is offered in about 20 Chicago Public High Schools, and brings them together around school food.
The challenge for them is to create a healthy school meal that they are excited about, that they want to eat, and that would be appealing to their peers and that could also be served in the school cafeteria.
All the meals meet the nutrition guidelines, the budget, and the realities for the federal school lunch program," said Porter.
Students work on their meals during the school year and at the competition, they are able to serve them to the judges who then select a winning team. The winning team gets to have their dish served in every Chicago Public School (CPS) sometime in the spring.
"As part of the program, the team that wins first place sees their school meal served across the entire district. It's exciting for the students because they know on that day that what they created is being served to all students. In addition to that, Cooking Up Change provides the nutrition department
at CPS the whole collection of student-designed recipes so they are able to pick and choose which recipes they want to implement and the district serves at least one Cooking Up Change recipe a month. These students are literally changing what's on the menu in their school cafeteria which is pretty exciting," said Porter.
High School Students Compete In Cooking Up Change Competition Chicago Public High School students recently participated in the Cooking Up Change competition which allowed them to create healthy and delicious meals that could be served at their school. Photo Credit: Healthy Schools Campaign www.thechicagocitizen.