SOUTH SUBURBAN RESIDENTIAL SCHOOL WILL ONCE AGAIN HOSTS ANNUAL THANKSGIVING LUNCHEON
11/7/2018, noon | Updated on 11/7/2018, noon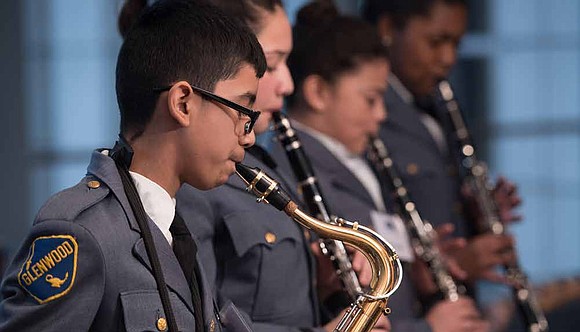 South Suburban Residential School Will Once Again Hosts Annual Thanksgiving Luncheon
BY KATHERINE NEWMAN
On Nov. 14, Glenwood Academy will host it's 70th annual Thanksgiving Luncheon at The Drake Hotel, 140 E. Walton Pl. in Chicago. The Luncheon is a fundraiser for the school and will include a performance from the student band, parent testimonials, and students dressed in military uniforms mingling with guests.
"For 70 years, the Thanksgiving Luncheon has been a premier opportunity to showcase Glenwood Academy's mission and raise funding to support our programs. The event is a celebration of our students, families, and supporters and is an official kick-off of the holiday season for Glenwood Academy," said Thelma Sardin, director of marketing and communications for Glenwood Academy
Glenwood Academy is a 131-year-old residential school, located on 500 W. 187th St. in the Village of Glenwood, one of Chicago's south suburban communities. Glenwood Academy is designed for children from diverse backgrounds and the staff there work to nurture and educate students who come from difficult backgrounds and inspire them to be strong members of their community. Nearly 100% of the students at Glenwood Academy live at or below the poverty line and 92% of students come from single-parent households, according to a press release announcing the Thanksgiving Luncheon.
"The Thanksgiving Luncheon is Glenwood Academy's signature annual fundraising event. All proceeds benefit the organization's dynamic programming which includes an unparalleled academic curriculum in a residential environment; on-campus clinical services including health and counseling; military leadership program; and summer enrichment program," said Sardin.
For more than 130 years, Glenwood Academy has used their influence to soften the impact that trauma and miseducation can have on a child's life. The school lives by the notion that they "are not the last resort for "bad kids," but rather, the first choice for scholars and tomorrow's leaders who will make an incredible mark on this world," according to a press release.
All are encouraged to attend the upcoming event and especially those who are interested in getting involved and making a difference in the life of a student.
"Individuals who are interested in giving back, volunteering, or helping to make a difference in the lives of children are encouraged to attend the Thanksgiving Luncheon," said Sardin.
This interactive student-led event will begin with a reception followed by a plated luncheon with a program and live auction.
Tickets are $100 and sponsorships are available. Please contact Jen Wolff, Director of special events and corporate sponsorships, at 708-756-6496 or jwolff@glenwoodacademy.org for more information.