Local Students Win $2,500 At National Entrepreneurship Competition
11/7/2018, noon | Updated on 11/7/2018, noon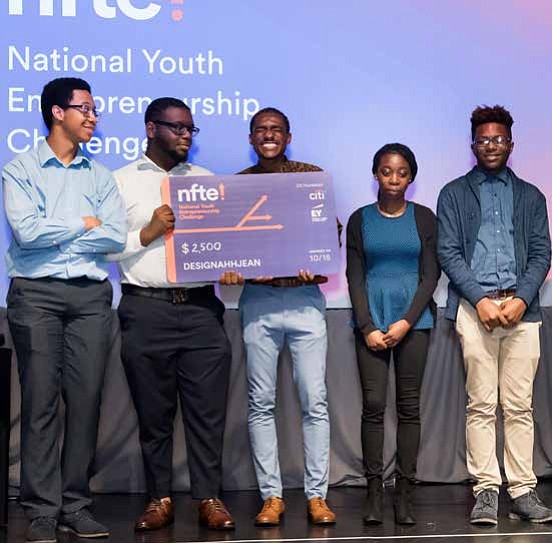 Local Students Win $2,500 At National Entrepreneurship Competition
BY KATHERINE NEWMAN
After competing against student-entrepreneurs in New York City, five young people from Chicago were awarded $2,500 for their business idea, Design AhhJean, at the Network for Teaching Entrepreneurship's (NFTE) national competition.
NFTE is a national non-profit with a Chicago Metro branch that works with local teachers and students in under-resourced communities to activate the entrepreneurial mindset.
Throughout the year, NFTE works with students to build business skills and every year those skills are put to the test at the National Youth Entrepreneurship Challenge. New to this year's national competition was the Entrepreneurship 2 event, in which the students who created the business plan for Design AhhJean were named the runners-up and awarded $2,500.
"We congratulate this year's winners and commend all the competitors. Participating in our national finals is an accomplishment whether or not you take home the top prize. It's a highly demanding, highly competitive day of back-to-back pitching. They're an extraordinary group of young people, who demonstrate the kind of creativity and initiative it takes to be a successful entrepreneur," said Shawn Osborne, president and CEO of NFTE.
At the national competition, the students were judged by professional business owners. The idea for DesignAhhJean was created and presented by Hasan Lipscomb, Antonio Finley, TyVon Jones, Yetunde Arogundade, and Diate Jackson. Their plan features a business capable of customizing jeans based on the unique styles of their clients.
"I think that one of the greatest challenges, when it came to presenting the team's business idea at the national competition, was the thought of whether our business idea can engage the judges and the audience. When presenting, you got to be in a clear state of mind and prepared for whatever and you got to have an audience that is actually paying attention to your presentation," said Jackson.
Lipscomb said that his biggest fear going into the competition was losing and having to leave New York City with nothing to show for the hard work that he and his team had put into their business plan.
Even though the team ended up not winning first place in their competition, they were proud to be named the runner-up.
"I honestly feel gratified that we got a chance to go to New York City and show off our business and presentation skills. Even though I didn't win first place me and my team still walked with a significant amount of money, and I was grateful for that," said Jones.
Overall, the students were thankful for the opportunity to present their business plan and to visit New York City.
"I am very grateful and thankful for the opportunity to be able to pitch our business and the winning of the $ 2,500. Thanks to that money we are able to invest back into our business and grow our business," said Arogundade.
To learn more about NFTE's programs visits www.nfte.co