Keys to Matteson handed over to volleyball coach
11/7/2018, noon | Updated on 11/7/2018, noon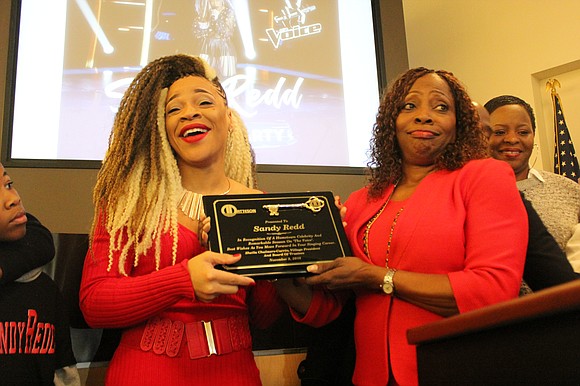 Keys to Matteson handed over to volleyball coach
By Wendell Hutson
Singing sensation Melinda Bussie, whose stage name is Sandy Redd, was honored by Matteson Mayor Sheila Chalmers-Currin on Saturday for her recent appearance on the TV show The Voice.
"We are excited for Sandy because she is one of our on. She is a hometown girl right here in the village of Matteson," said Chalmers-Currin. "This is my first time giving a resident a key to the village and I am very proud to do so."
More than 100 people, including Matteson resident and comedian Damon Williams, attended the Saturday event at the Matteson Village Hall, 4900 Village Commons.
Redd, 36, is a volleyball coach at Southland College Prep Charter High School in Richton Park and a contestant on the talent competition show, which airs 7 p.m. on NBC Mondays and Tuesdays. Redd will be back on the show Monday, Nov. 12.
At her Oct. 2 audition Redd sung "River" by Bishop Briggs and thrilled all four judges who include Grammy award winner Jennifer Hudson. Contestants get to choose a judge to serve as their coach and Redd chose singer Kelly Clarkson, the 2002 American Idol winner.
After standing ovation Redd thanked the crowd filled with Matteson residents for their support.
"I thank God for allowing me to come this far in life. My goal is to change the world through music and I feel like I have the power to do that with support from all of you," Redd told the crowd. "I know my mother is looking down on me from Heaven and she is pleased with what she sees."
Redd said while she's grateful for all the support she has received from family, friends and Matteson residents, she wished her late mother could have joined her at the ceremony.
"My mom (Margaret Owens Bussie) died from cancer in 2006 and I am striving to win this competition because I want her to know that all her sacrifices and hard work was not done in vain," said Redd, a single mother of two boys age 12 and 18-years-old. "I have always wanted to be a singer and I have been singing since I was a little girl. My foundation has always been gospel music."
When Redd, who attended Hillcrest High School in Country Club Hills, is not singing or coaching volleyball she enjoys skating and listening to music from some of her favorite singers, such as the Clarkson Sisters, Michael Jackson, Jill Scott, Whitney Houston, and Tina Turner.