Donald Byrd Returns to Dance Center After 24 Years with Spectrum Dance Theater
11/7/2018, noon | Updated on 11/7/2018, noon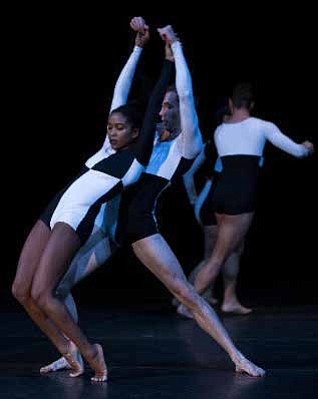 Donald Byrd Returns to Dance Center After 24 Years with Spectrum Dance Theater
Bessie Award-winning and Tony-nominated choreographer Donald Byrd returns to Chicago with his company Spectrum Dance Theater, presented by the Dance Center of Columbia College Chicago January 31–February 2, 2019 at the Dance Center, 1306 S. Michigan Ave., Chicago.
In his first Chicago appearance since Donald Byrd/ The Group performed during the Dance Center's 1994–95 season, Byrd brings his Rambunctious Iteration #3 – The Immigrants, comprising five works featuring the music of American composers who are
immigrants from non-European countries that America has historically been at odds with or are part of the current debate on immigration: Tania León (Cuba), Max Lifchitz (Mexico), Yevgeniy Sharlat (Russia), Tan Dun (China) and Gity Razaz (Iran). Rambunctious Iteration #3 – The Immigrants seeks to expose the rich artistic and cultural contributions to the American landscape of this particular group of immigrant artists.
SPECTRUM DANCE THEATER
Spectrum Dance Theater (SDT) was founded in 1982 to bring dance of the highest merit to a diverse audience composed of people from different social, cultural, ethnic and economic backgrounds. Its principal objective is to make the art form of dance accessible through contemporary dance performances and high-quality training in a variety of dance styles. Under Donald Byrd's visionary artistic leadership since 2002, the organization has embarked on an exhilarating transformation that has attracted world-class dancers, produced some of the most ambitious works in contemporary dance and generated local and national praise.
RESIDENCY ACTIVITIES
A post-performance conversation with the artists takes place Thursday, January 31. A pre-performance talk with Donald Byrd takes place Friday, February 1 at 6:30 p.m. at Sherwood Community Music School's Recital Hall, 1312 S. Michigan Ave. (next door to the Dance Center). Additional residency activities with community partners and Columbia College Chicago students take place throughout the week leading up to the performance weekend.
The Dance Center presents Spectrum Dance Theater Thursday–Saturday, January 31–February 2, 2019 at 7:30 p.m. at the Dance Center, 1306 S. Michigan Avenue, Chicago. Single tickets are $30, $24 for seniors, $10 for students with ID at the door; subscribers to three or more performances during the season save 25 percent, and
groups of 10 or more save 30 percent. Tickets are available at 312-369-8330 and dance. colum.edu.
All programming is subject to change. The theatre is accessible to people with disabilities.