STATES ATTORNEY SPEAKS ABOUT THE IMPORTANCE OF EARLY CHILDHOOD EDUCATION
5/30/2018, noon | Updated on 5/30/2018, noon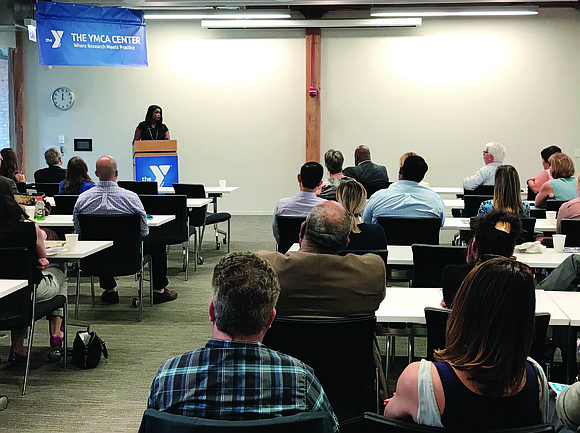 States Attorney Speaks About the Importance of Early Childhood Education
BY KATHERINE NEWMAN
A recent YMCA Experience (YXP) event held at the YMCA of Metropolitan Chicago, 1030 W. Van Buren St., featured Cook County States Attorney, Kimberly Foxx, as a guest speaker. Foxx utilized YMCA services as a child and continues to support and acknowledge the importance of their programs in the lives of Chicago's youth.
"I am here as a YMCA alum. I'm here as someone who has benefited from having the YMCA in my life at an early age. I am a child who grew up in concentrated poverty in one of the most notorious housing project in the country, Cabrini Green. I remember when the new city YMCA was built down the street from my apartment complex and how excited we were to see the bright colors and the freshness of that building," said Foxx.
After being elected on Dec. 1, 2016, Foxx became the first African American woman to lead the Cook County States Attorney's Office which is the second largest prosecutor's office in the country. At the YXP event, she spoke about how she campaigned differently for her position. Rather than focusing on crime, she simply spoke about her life and her own experience growing up in poverty.
"There are not very many people like me who work in the office of the Cook County States Attorney. I have more in common with the people who come through our criminal justice system than the attorneys who work with me," said Foxx. "It was that history that I shared while running for office that was unique because I was coming at this work from the perspective of someone that has lived those experiences."
Recognizing what a prosecutor can and can't accomplish is key along with recognizing that organizations like the YMCA that attempt to intervene in young people's lives before they get to the criminal justice system is far more important than what the prosecutor can do, according to Foxx.
"There is research that demonstrates that young people who are provided the opportunity to engage in head start programming fair much better than those who do not. Getting young people involved in early childhood education is a public safety measure," said Foxx
More than just the crayon drawings that children come home with, early childhood education is a public safety measure, according to Foxx.
"The communities that invest in early childhood education fair better on public safety metrics," said Foxx.
If the wide belief is that it is more beneficial to invest in housing incarcerated people rather than investing in early childhood education, that community is failing, according to Foxx.
"Can we imagine for a moment, how much talent and opportunity for our entire community is left behind when we don't invest in our neighborhoods and our young people early? The miracle of me standing here as the first African American women to hold this position and as a girl of Cabrini cannot be understated," said Foxx.
For more information on upcoming YXP events visit ymcachicago.org.