South Suburban Job Fair Boasts Variety of Employers
5/30/2018, noon | Updated on 5/30/2018, noon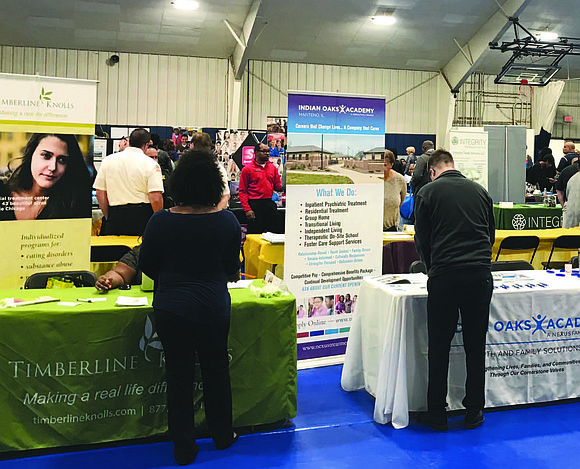 South Suburban Job Fair Boasts Variety of Employers
BY KATHERINE NEWMAN
Thornton Township and South Suburban College (SSC) recently held their seventh annual collaborative job fair at the SSC Fitness Center. Seventy-five businesses were present to conduct interviews with nearly 1,000 employment-seekers who attended the job fair.
"We do a really good job of marketing and preparing students and employees for the job fair, we do resume training, interview training, and we make sure people are dressed professionally and come here ready to do on the spot interviews," said Ernst Lamothe, community relations manager for Thornton Township.
Though not all employers were doing on-the-spot interviews at the event, several were. Others were in attendance to establish a connection with potential employees and encourage them to take information and fill out applications.
"We do have a good amount of employers who are willing to do interviews right there on the spot. Other employers will require them to apply online, but they want to get a sense of what kind of people are here and get a sense of the skill set of this community," said Lamothe
With over 75 businesses willing to set up tables at the job fair, there was a great variety of employers who offered an even wider variety of job opportunities. Employers like UPS, Roseland Community Hospital, Secure Home and Automation, and Amtrak all participated to provide opportunities for entry-level workers all the way up to highly skilled professionals in many different fields.
Secure Home and Automation, a residential security provider based out of South Holland, is in the process of doing a major expansion and was at the job fair to meet with potential employees. Secure Home and Automation will continue to hire until they are fully staffed for their expansion.
"The benefit and the reason why I like coming to these types of events is that it allows us to have a first-hand conversation and create a little bit of a rapport with the applicant and put a face with a name," said Stacey Chauncey, president of Secure Home and Automation. "We are looking for a lot of people at all different levels. We have openings for entry-level positions, people that have experience doing installations, customer service, the whole nine-yards because we are a full-service provider."
Over the last seven years, unemployment has lessened across the nation, but Lamothe said that the job fair has continued to grow by diversifying the types of jobs that are available each year.
"Even though the unemployment rate has decreased, we are still increasing and the reason why is that there are certain types of jobs that are more popular now than before. As the different skill sets have changed, different industries have gone up and down. How we've grown is that we want to make sure we have a variety instead of just two or three kinds of jobs for the community," said Lamothe.