SCHOLARSHIP FOUNDATION GIVES TO YOUNG MEN AFFECTED BY GUN VIOLENCE
5/30/2018, noon | Updated on 5/30/2018, noon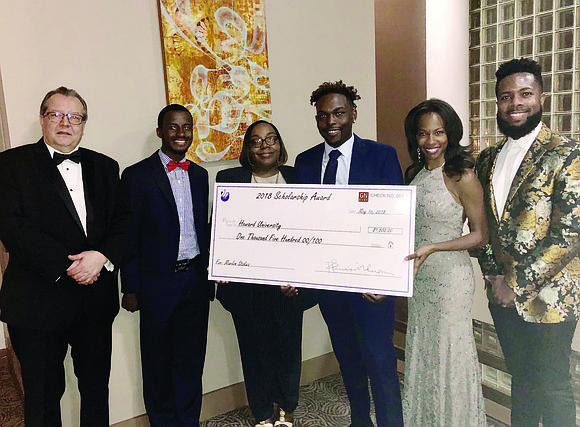 Scholarship Foundation Gives to Young Men Affected by Gun Violence
BY KATHERINE NEWMAN
The Ezekiel Taylor Scholarship Foundation (ETSF) recently awarded its first college scholarship of 2018 to Marlon Stokes, senior at Rich South High School in Richton Park. Stokes was awarded the scholarship because of his compelling essay detailing how Chicago's gun violence has impacted his life.
The ETSF was founded in memory of Ezekiel Taylor who was killed by three young men on the Southside of Chicago in 1982 when he was 34
years old.
"The Ezekiel Taylor Scholarship Foundation is a 501c3 organization that identifies young African American males to provide them with college scholarships, mentorships, and educational and life skill programming. It is named after my father, Ezekiel Taylor, who was killed on the Southside of Chicago in 1982. He was carjacked on 79th and Stony Island. They were trying to rob him for his jewelry and his car and they got into a fight and they took his life," said Tenisha Taylor Bell, CEO and ETSF and daughter of Ezekiel Taylor.
The ETSF will be giving away at least 15 scholarships this year to young men living in Cook County, the scholarships range from $1,000 to $3,000.
More than just giving scholarships, Bell said that she wants to be a mentor to these young men and be with them throughout their college careers. She said she looks forward to being at all of their graduation ceremonies.
"This is a family foundation and the young men who get our money become our students, our sons, and our little brothers. We want to make sure we are not just writing a check, but we want to become their village," said Bell.
In order to be eligible for a scholarship, applicants must be young men living in Cook County, have a 2.5 GPA or higher, and submit a personal essay about how gun violence has impacted their life and how they plan to give back.
After reading all the essays and narrowing down the applicants, board members conduct phone interviews and Skype interviews to get a feel for the applicant's needs, why they applied, and how they plan to give back.
In his essay, Stokes wrote about his own father's bad decisions and affiliation with guns and gun violence.
"I see what it does to our community and our society. I want to use my voice along with others to do something about this so that more people can have a chance at living life. Inner-city homicide causes us to lose our future doctors, our future dentists, lawyers, nurses, and even presidents. If I could help at least one person in my lifetime, I've done my part in making this world a better place. With the knowledge and degree I gain from attending college, I vow to give back and be a mentor to youth," Stokes wrote in his essay.
The ETSF is currently preparing for their annual Scholarship Fundraiser and Auction on July 27. For more information, visit eztaylor.org.