Museum of Science and Industry Opens Interactive Pixar Exhibit
5/30/2018, noon | Updated on 5/30/2018, noon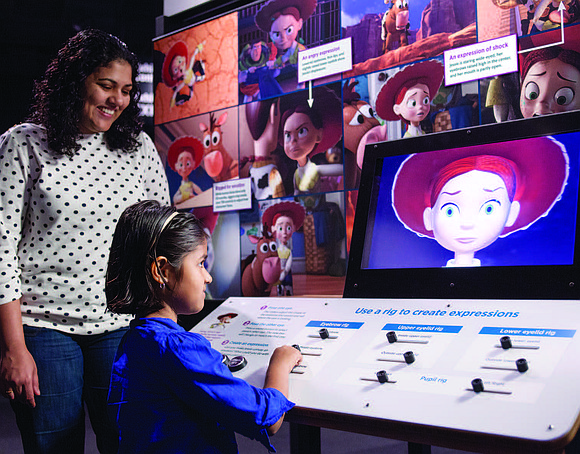 Museum of Science and Industry Opens Interactive Pixar Exhibit
BY KATHERINE NEWMAN
The Museum of Science and Industry (MSI) recently opened a new temporary exhibit, The Science Behind Pixar, which gives guests an in-depth look at the work that goes into making animated Pixar films like Finding Nemo and Toy Story.
Within the two-gallery exhibition, guest will have a chance to experience 40 interactive elements showing how modeling, lighting, rigging, surfaces, sets, and cameras are all used to create a Pixar animated movie.
"One of the great things, we always like to offer a behind the scenes look when we can and this is a great way for guest to see the process that goes into making a Pixar animation film. I think that once guests come to the exhibit they will see that there is a lot that goes into the process of making a Pixar film and that there is so much science, technology, engineering, and math that goes into this process," said Jeff Buonomo is our Manager of Special Exhibitions at MSI.
The exhibit is fun and educational for all ages. Young children will enjoy meeting the larger-than-life models of their favorite Pixar characters while older kids and adults can really dive into the interactive and educational elements of the exhibit.
"You can see Buzz Lightyear larger than life, you can see the characters from Monsters University, you can see Dory and Wall-E and certainly the little kids will go ga-ga for that. For school-aged kids and even adults, there are so many rich interactives to do. You can learn how to be a lighting artist and how that conveys itself in a Pixar animated film, how modeling works, how rigging works in a computer-animated film. It's one of the most interactive exhibitions we've ever hosted, as far as I'm concerned, from a temporary exhibit," said Buonomo.
The Science Behind Pixar exhibition was originally created by Pixar with the Museum of Science in Boston and has since been traveling around the country and duplicated to be displayed in Europe and Asia. The exhibit will stay at MSI all Sumer, Fall, and the winter holidays.
The staff at MSI are excited to have The Science of Pixar at the museum because it greatly adds to their mission of inspiring creativity and innovation.
"We always like to highlight creativity and innovation. We do that with examples of past creativity and innovation, future creativity and innovation. Of course, all the careers and people who are working at Pixar are doing that and in the moment they are putting all these science, technology, engineering, and math careers to work. Hopefully, this exhibit will inspire some of these young kids to pursue some of these careers so that they can be creating the next films for tomorrow," said Buonomo.
Entrance to The Science Behind Pixar is not included in Museum Entry and requires an additional timed-entry ticket, $14 for adults and seniors and $11 for children.
For more information visit msichicago.org.