South Suburban College Receives Award for 90-Year Anniversary Display
5/23/2018, noon | Updated on 5/23/2018, noon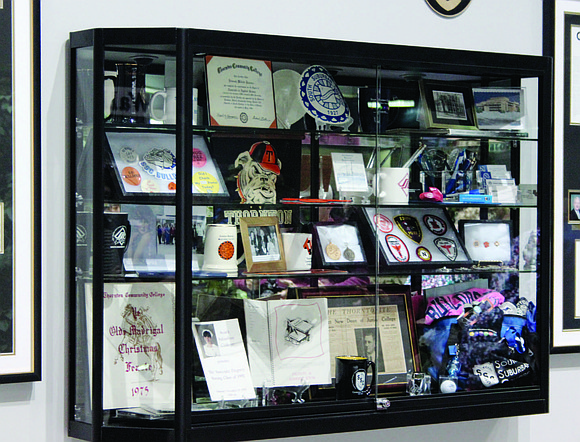 South Suburban College Receives Award for 90-Year Anniversary Display
BY KATHERINE NEWMAN
South Suburban College (SSC) recently received a Certificate of Excellence award from the Illinois State Historical Society for their 90-Year Anniversary Historic Wall Display that preserves and showcases the history of SSC. The display features photos and memorabilia from the past 90 years that SSC has been operating and offering higher education opportunities to South Suburban communities.
"Last year, since it was our 90th anniversary, I thought it would be an opportune time to do a wall about the college because we have such a long history. We were one of the very first community colleges in the country in 1927. Along with the wall, we did a history book and that tells the whole story," said Debbie Lamoureux, administrative assistant in the publication department at SSC.
The short history book chronicles the story of SSC year-by-year noting significant achievements and events, past presidents of the college, and how courses and enrollment have grown or changed over the years.
The 90-Year Anniversary Historic Wall Display at SSC received it's Certificate of Excellence in the Special Project category, meaning that their specific project increased awareness of state and local history.
"The [SSC] project provides its audience with both an immediate and long-lasting recognition for the significance of this milestone anniversary. The timeline book and community activities were well-planned, thus ensuring the college's anniversary was celebrated by past and future graduates," said the Illinois State Historical Society on their website. "The college has a tradition of creating individual walls to display the history of the various towns they serve. How appropriate that the college dedicates a wall for their own story."
Although Lamoureux has only been working at SSC since 2001, she has had the opportunity to dive deep into the 90-year history of the college which was originally known as Thornton Junior College. Over the years, many significant changes have taken place at SSC, including changing the name three times, but overall she said that the students have changed the most.
"We've seen a lot of history in the last 90 years and so much has changed. I think the students have changed the most. We have a different type of student now, it's not just kids coming right out of high school. We have a lot of people going back to school and starting new careers. We have a lot of older students now rather than the 18-year-olds," said Lamoureux.
Another major change that SSC has weathered is advancements in technology. In 1980 the college purchased 25 IBM typewriters, according to the SSC history book, and today there are computers all over the school.
"We used to have just a few computers in the library, but now we have computers everywhere for student use and so much more is done online. I think technology has exploded and SSC has kept up along with each change and each new innovation," said Lamoureux.
For more information. visit SSC.edu.