Shabazz Students Celebrates Wakanda Mondays
5/23/2018, noon | Updated on 5/23/2018, noon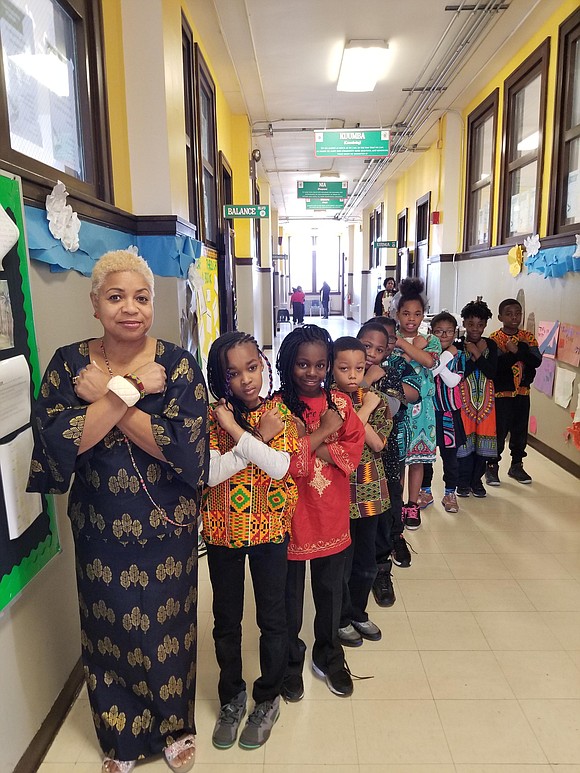 Shabazz Student Panthers Celebrate the Black Panther Blockbuster Continues Setting Records On and Off the Big Screen
Released during Black History Month, the Marvel Studios' blockbuster Black Panther still is setting records nearly three months later with worldwide box office sales at $1.4 billion. Now that it's available on home video, sales will continue exponentially. Support for the superhero movie and its 31-year-old African American director Ryan Coogler has been nothing short of a cultural movement for Black America.
But even before Black Panther was officially in theaters, students at Barbara A. Sizemore Academy and Betty Shabazz Academy, elementary schools in the Betty Shabazz International Charter Schools network, felt a bond with the #3 movie of all time. The kindred spirit was not just because their school mascot is a Black panther, but because the movie showcases and celebrates the strength, intelligence and heritage of Africa (Wakanda) and African people, something Shabazz students experience each day at the Chicago African-centered schools.
For Shabazz students, the excitement for Black Panther began building during the film's opening weekend when the school hosted a successful, sold out fundraiser screening at Studio Movie Grill and has continued with its Wakanda Mondays, a celebration of African culture through attire while recognizing the cultural significance of the movie Black Panther. The fundraiser even attracted the attention of Voice of America, the largest U.S. international broadcaster of news and information with a weekly audience of nearly 240 million https://www.voanews.com/a/4261999.html
Betty Shabazz International Charter Schools (BSICS) is an African-centered network of institutions that is culturally rooted in academic excellence for next generation leadership and is accepting new students for the 2018-19 school year. Since its inception, BSICS has consistently produced exemplary, high-achieving students who have a strong sense of cultural identity and a commitment to make positive contributions to the community and the world. For more information, visit www.bsics.org or call 773.651.2426.