REP. ROBIN KELLY HOSTS ROUND TABLE TO DISCUSS FINANCIAL STRAINS IN SOUTH SUBURBS
5/23/2018, noon | Updated on 5/23/2018, noon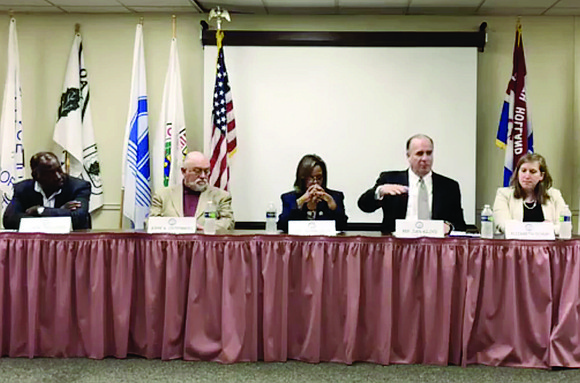 Rep. Robin Kelly Hosts Round Table to Discuss Financial Strains in South Suburbs
BY KATHERINE NEWMAN
Congresswoman Robin Kelly from Illinois second district recently hosted a panel discussion with Congressman Dan Kildee (MI-05) to discuss the communities in Chicago's South Suburbs, and across the country, who are facing significant financial stress and who are looking for a way the federal government can help. Several government and community leaders from South Suburban Communities were present to give their thoughts on the matter.
This forum was part of The Future of American Cities and Town, a federal initiative lead by Kildee to spark policy discussion around the unique challenges that many older, industrial communities are currently facing.
Originally from Flint, MI, Kildee believes that there is room for the federal government to get more involved locally and realizes that it is in everyone's best interest if these struggling communities survive.
"The federal government's interest begins with the notion that the people who live in these regions are not just Homewood residents or Illinois residents, they are residents of the United States of America and they have a right to see the tools that the federal government has at its disposal used to maximize the potential of the community that they live in," said Kildee.
Congresswoman Kelly agreed with Kildee and reiterated the importance of having these conversations at the local level.
"Federal and State policies set the stage and provide funding for many decisions on how best to deliver services, but strategic planning, economic growth, keeping our communities safe, protecting our health and environment, and educating our children all start at the local level and that's why it's so important to have these conversations and engage local leaders, both elected staff and community leaders, so federal policymakers can be better partners in your efforts especially when it comes to economic development," said Kelly.
Many community leaders spoke at the forum and noted that they are not receiving the financial support they need from the state or the county.
"In Illinois, not only do we have a situation where funding that we used to receive has been cut back, but they are also reaching into our pockets and taking our dollars," said John Ostenburg, Mayor of Park Forest.
The Mayor of Matteson, Sheila Chalmers-Currin also spoke about her own community that has recently experienced the closure of several big-box stores and is trying to find new ways of generating income to support the middle-income community.
"We need the services and the help to make sure that the community gets what it needs. We do not get the support that we need from our county or state and we are hoping that we can get more support from federal," said Chalmers-Currin. "I can tell the residents firmly that I am working full-time calling people every day to make sure that we can move the village forward, but If we don't get the support, then we are not going to get anywhere."