Pop-up Shop Highlights Black Entrepreneurs and Products
5/23/2018, noon | Updated on 5/23/2018, noon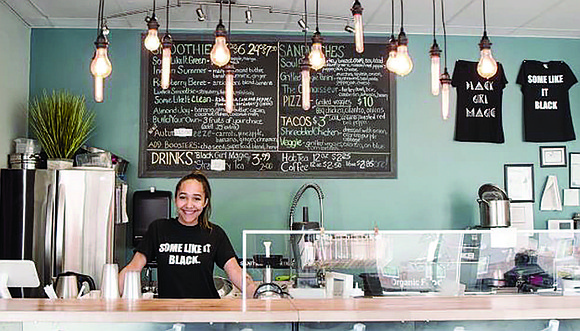 Pop-up Shop Highlights Black Entrepreneurs and Products
BY KATHERINE NEWMAN
The Unapologetically Black Pop-up Shop happened over the weekend at Some Like It Black Creative Arts Bar, 4258 S. Cottage Grove Ave., in Chicago. The pop-up shop ran from 8 to 11 p.m and featured various handmade products from black entrepreneurs and artists.
The event was put together by Jun June in collaboration with Some Like It Black as a way to draw attention to the business and give a platform for local vendors to reach a large audience.
"I think this is actually bringing the community together. It gives the community an alternative and something positive and something that is full of love. It gives the community a better look away from what some media sources broadcast about our neighborhood," said June. "I think the show was kind of needed because it diversifies the community and brings a sense of more pride as well as a more artistic feel to it."
Some Like It Black originally operated in South Loop and catered to artists. People from across the city would come to enjoy live entertainment from a variety of local and famous poets and jazz musicians. After 17 years in South Loop, Some Like It Black decided to move to the Kenwood/Oakland community with a new style, the Creative Arts Bar. The Cafe serves 100% organic, non-GMO food and drinks along with a variety of vegan options and a full smoothie bar.
"The event was in a sense created to help out the business because they have more of a Hyde Park type of venue and this community hasn't fully went through that change to make it more diverse, so residents aren't as open to the more healthy and vegan items that they have on their menu. I created this event to help Some Like It Black as well," said June.
The Unapologetic Pop-up Shop will be happening every month and is intended to be a family atmosphere and a great place to hang out and get to know local entrepreneurs products.
"I wanted to give it more of a family feel. I wanted to make it a hangout type of feel to encourage people to stay instead of going anywhere else. It's a nice cozy vibe and we play soulful music. It's a really soulful feel, we just hang out and it's not about getting rowdy, but it's like let's just get a smoothie and hang out and enjoy the moment. It's a great social event," said June.
So far, there has been a great response to the energy of the event and the black-owned businesses and products that can be found at the Unapologetic Pop-up Shop.
"The feedback that I have gotten so far is that the Unapologetic events give an artistic experience in urban culture. Everything is handmade, there is a vendor that makes creole cookies from scratch that were passed down from her great-great-great grandma. It's like
a tour through black culture," said June.
For information on upcoming events visit Some Like It Black Creative Arts Bar visit www.somelikeitblack.com.