Police Remove More than 100 McDonald's Workers from Illinois Statehouse During Poor People's Campaign Protest Challenging Systemic Racism
Days Ahead of McDonald's Shareholder Meeting, Cooks, Cashiers Blast Burger Giant for Locking Workers of Color in Poverty
5/23/2018, noon | Updated on 5/23/2018, noon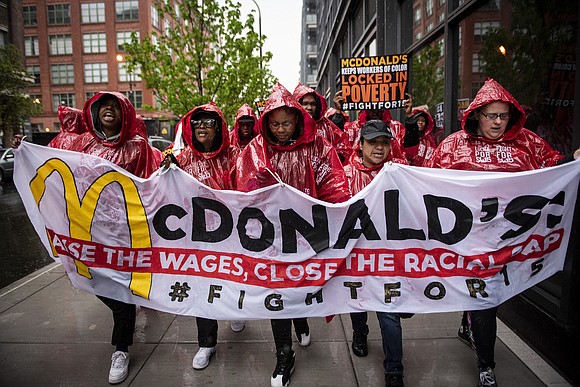 Police Remove More than 100 McDonald's Workers from Illinois Statehouse During Poor People's Campaign Protest Challenging Systemic Racism
Days Ahead of McDonald's Shareholder Meeting, Cooks, Cashiers Blast Burger Giant for Locking Workers of Color in Poverty
Springfield Protest Follows Delivery of Letter to McDonald's New Chicago Home Showing How Company's Record of Blocking Wage Increases Hurts Workers of Color Most
More than 100 McDonald's cooks and cashiers were physically removed by Capitol police from a protest at the Illinois statehouse Monday – days ahead of the company's annual shareholder meeting – as the Fight for $15 joined forces with the Poor People's Campaign: A National Call for Moral Revival in nonviolent direct action to highlight the burger giant's role in locking workers of color in poverty.
Carrying signs reading "Black Workers Matter, McDonald's" and chanting "We Believe That We Will Win," workers in McDonald's uniforms were carried away along with activists, clergy and community leaders following a two-hour sit-in at the governor's office and the legislative chambers. The nonviolent direct action was part of a wave of Poor People's Campaign protests against systemic racism that hit 35 state capitals and Washington, D.C., Monday.
"McDonald's does everything it can to block people of color like me from getting higher wages," said Ashley Bruce, a McDonald's worker from Chicago who is paid $11 an hour and was arrested Monday. "I help McDonald's make billions every year, but I'm paid so little I need government assistance to make ends meet. I'm going to continue doing whatever it takes until McDonald's listens to our demand for $15 an hour and union rights."

Earlier Monday, a delegation of McDonald's workers from across the country converged in Chicago and delivered a letter to the company's new downtown headquarters serving notice of their plans to join the Poor People's Campaign nonviolent direct action at the state capital Monday afternoon. The letter detailed how McDonald's perpetuates systemic racism in the U.S. by blocking raises for people of color.
"We are calling on McDonald's – the world's second-biggest private employer – to use its massive power and wealth to lift up people of color and our communities rather than keep us locked in poverty," the letter reads.
The letter delivered to McDonald's corporate offices documents the company's aggressive lobbying against minimum wage increases, which disproportionately harms Black and Latino workers who are overrepresented in low-wage jobs. McDonald's spends tens of millions on local, state and federal lobbying, and one of its top-ranking executives sits on the board of the National Restaurant Association, which fought to reverse a minimum wage increase passed in New York State, and is advocating to block a minimum wage increase passed by Black legislators in Birmingham, Alabama.
The letter also outlines McDonald's extensive record of harassment and discrimination against Black and Latino workers who have spoken up to challenge the company's low wages. The letter cites McDonald's illegal intimidation, surveillance and termination of workers who have gone on strike with the Fight for $15 over the past five years, and highlights the company's multiyear collusion with the Memphis police department to stifle organizing by workers of color in the city demanding $15 an hour and union rights.