NEW FAMILY-OWNED GROCERY STORE IS OFFICIALLY OPEN ON THE WESTSIDE
5/23/2018, noon | Updated on 5/23/2018, noon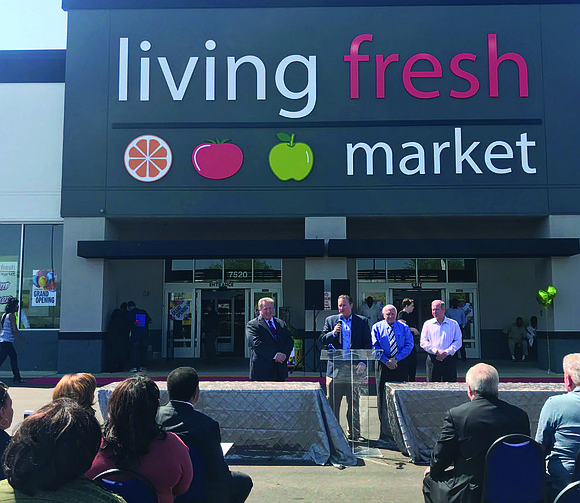 New Family-Owned Grocery Store is Officially Open on the Westside
BY KATHERINE NEWMAN
A ribbon-cutting ceremony was held at Forest Park Plaza for the recently opened Living Fresh Market at 7520 Roosevelt Rd. The new grocery store is a collaborative effort between Chicago-area businessmen and third-generation grocers, Daniel and Kenneth Casaccio, and the father-daughter team, Melody and Dr. Bill Winston, who own and operate Forest Park Plaza.
The 33-acre Forest Park Plaza that now houses Living Fresh Market is owned and operated by Forest Park Plaza LLC, a subsidiary of Living Word Christian Center which is also housed in the business complex.
Together, the Winstons and the Casaccios worked with the community and the Village of Forest Park officials to bring a grocery store to the west side that would meet the needs of residents.
"I just want to say thank you to the Casaccio family for stepping up, we prayed and you're the answer. Thank you to the Village too, the Village really stepped up as well. This is a partnership all the way around which is how it should be, everybody wins," said Dr. Bill Winston, founder and senior pastor of Living Word Christian Center.
Daniel and Kenneth Casaccio are third generation grocers, their father Gus Casaccio has been in the grocery business for 65 years and before that, their grandfather started Leamington Foods in Chicago in 1923.
"I didn't think I would be in this situation after 65 years in this business, but this is all I've been doing and this is a very exciting thing for me. I appreciate everything everyone has done to help us get this store open because they have done a lot," said Gus Casaccio.
The opening of Living Fresh Market has already made an impact on the community by hiring 150 people who will help make grocery shopping a positive experience for residents of Forest Park and its surrounding communities.
"You feel good walking in and walking out. They have done so much to commit to this deal and the process was seamless. They never turned a blind eye and they always looked forward. It was a win-win for us at Forest Park Plaza, for them at Living Fresh Market, and for the community of Forest Park," said Melody Winston, director of real estate, operations and construction for Forest Park Plaza.
This is a critical time in many communities, especially on the West Side, where there are not as many quality grocery options as there used to be. Forest Park Plaza, LLC listened to the people of Forest Park and worked hard to bring Living Fresh Market to the Community.
"Most villages and cities are not getting grocery stores at this time," said Melody Winston, "As a landlord, we want to be able to bring something to the community of value. I just want you all to know that we heard you. Make them feel at home, they are a family owned grocer."